As more and more homeowners are adding this luxurious item to their kitchen countertops, others are becoming more curious about how the concept works. Below are five common misconceptions about heating your countertop that may make you want to get the product yourself.
1.   You must buy new countertops if you want them to be heated.
False. In fact, many homeowners choose to heat their countertop after their granite or quartz has been installed. After spending thousands on a kitchen renovation, people are often unhappy with how cold the surface feels to lean on. Luckily, a countertop heating mat can be added even after your countertops are installed. 
2.   Heated countertops are pointless.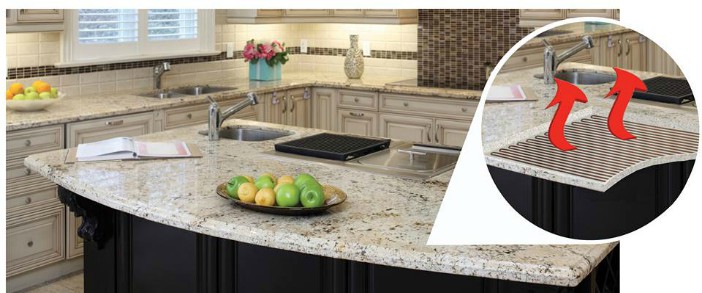 While heated countertops are a luxury item that may not be for everyone, there are many benefits of this unique product. "My wife has fibromyalgia and the cold temps of the quartz would literally cause her pain," says Brian C. in Seattle, Washington. "Now she loves our countertop and puts her arms and hands on it without pain." Click here to see more wonderful benefits of heating your countertop.
3.   You must hire an electrician to do special wiring.
False. The stick-on heating mat is marketed as a DIY product, meaning that anyone with basic handyman skills can apply the product without the help of a professional. The mat plugs into a standard outlet, utilizing the same amount of a power that a laptop computer utilizes.
4.   Cold countertops are better for cooking.
We actually agree with this statement, but did you know that you don't have to heat your entire island? Most people choose to only heat the overhang area where barstools are located so that they get the best of both worlds. Cold countertops on one side for cooking, and warm countertops on the other side for comfort.
5.   A floor heater can be used to heat your countertop.
This is not recommended. Floor heaters typically use 120 (or 240) volts and cycle on and off to arrive at a surface temperature range. This temperature fluctuation causes stress and fatigue in the stone, introducing the potential risk of damaging or cracking your expensive, high-quality countertops. We suggest buying an ultra-thin heating mat designed specifically and safely for countertops. 
What do you think about the latest trend of heated countertops? Share your thoughts with us on Facebook!