Treat yourself like a queen with luxe products for your built-in vanity. Surround yourself with lovely bathroom elements to create a beautiful beginning each morning and a happy ending each evening.
Get your bath vanity dressed to the nines with these nine products that bring elegance to your bathroom. 
Especially nurture yourself with a warmed countertop from FeelsWarm. Contact us today to learn how easily you can add a thin, customized heating mat underneath your stone countertop.
Set the Stage for the Star With Lavish Vanity Features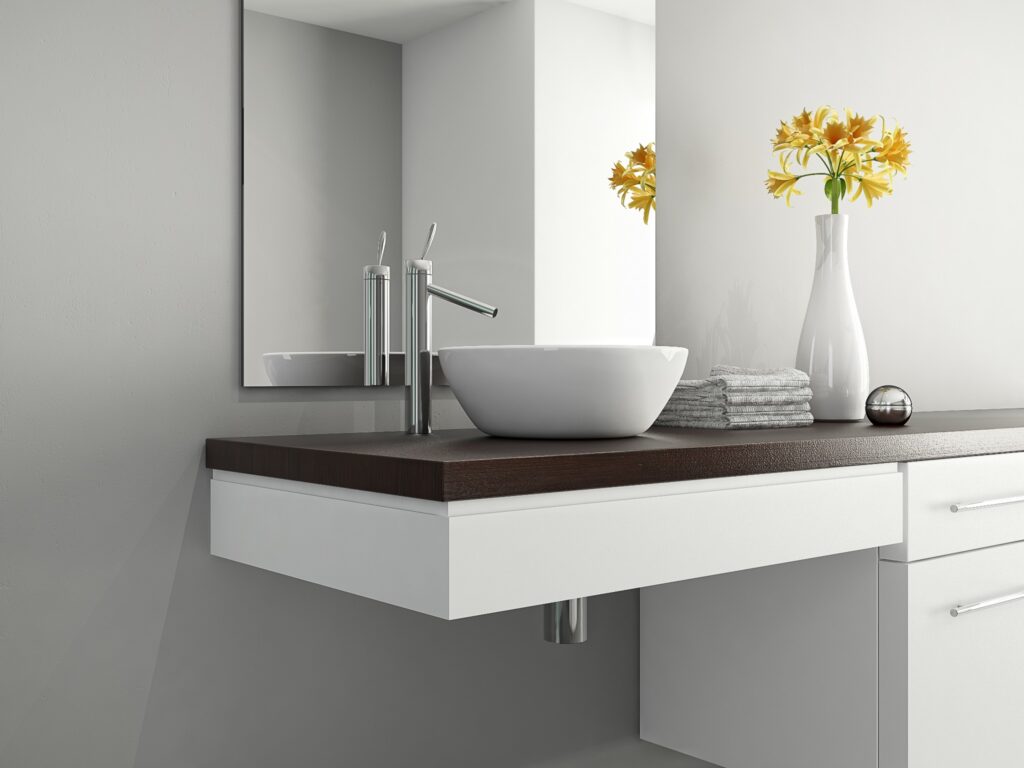 In the spirit of uplifting interior design, you can assure your bath vanity offers you creative and refreshing space. Think spa, but a private spa just for you. 
This is where you nourish yourself as you prepare to go out to your life, your people, and your work. Just as you put your oxygen mask on first, you breathe fresh life into yourself before you engage with others.
Whether you stand before or sit at your built-in vanity, you are the star of this stage. Craft the area to suit your style and help you shine.
Expand Your Storage Opportunities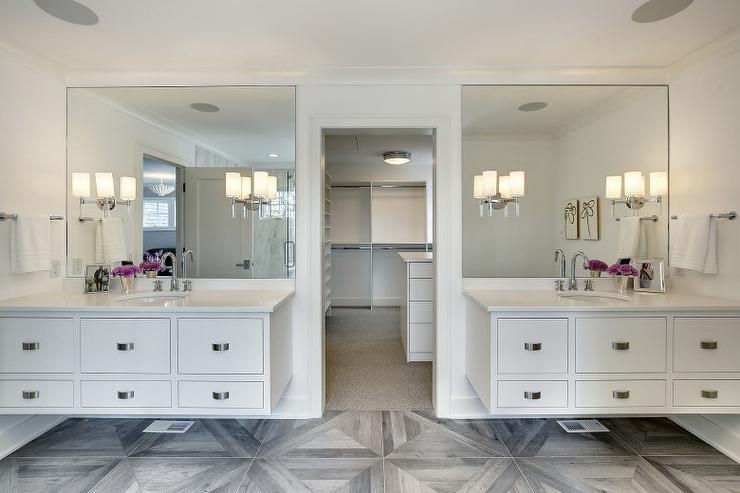 A built-in vanity can be as functional as it is beautiful. Its drawers and cabinets provide ample room to corral your make-up and hair care products.
Add plastic containers and baskets to bring order and access.
Your bathroom vanity is a royal carriage of storage space compared to a spartan pedestal sink. Amy Bly of Great Impressions Home Staging/Interiors notes, "The extra storage from the built-in drawers and shelving is one of the key benefits of a bathroom vanity—and the fact that it's a piece of furniture that can dress up your bathroom's look."
Speaking of furniture, consider adding a small but comfortable chair to your bathroom. It's a delight to have a spot to sit as you prepare for your day. After you install FeelsWarm countertops, you'll be tickled at how pleasant it is to rest your arms on the warm surface.
Color the Room with Luxurious Decor and Paint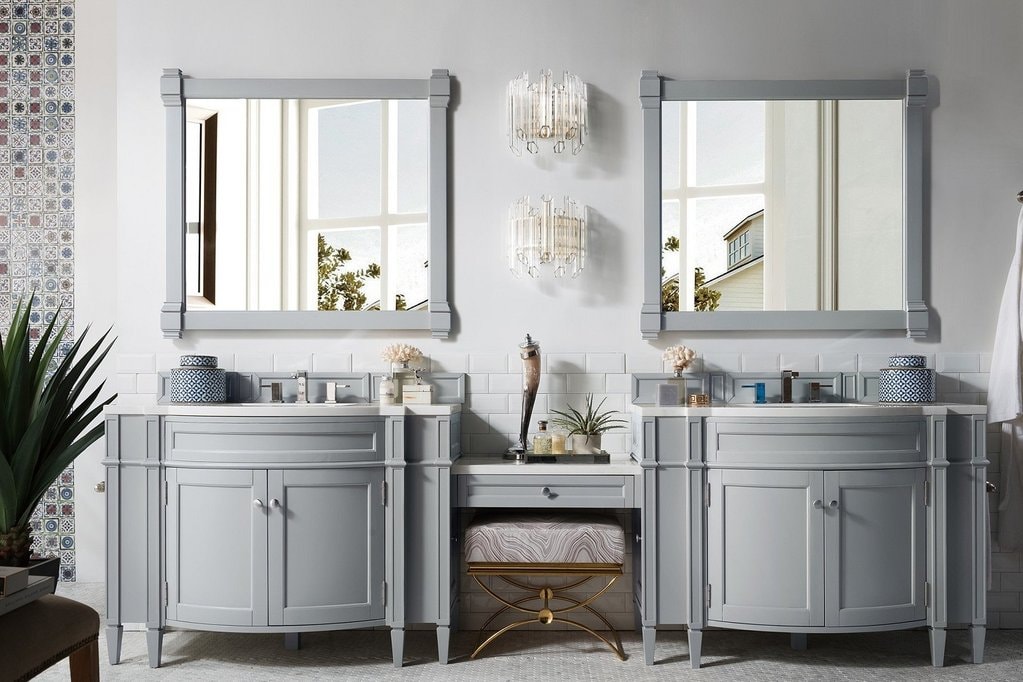 Have fun trialing colors with an online paint visualizer to find inspiration for the space around your built-in vanity.
2. Add new paint to highlight a regal accent wall.
Brilliant art can inspire you while also drawing away attention from any timeworn spots. Choose art that can tolerate moisture, such as a large glass print of a favorite photograph. Let this visual help center your spirit to begin and end each day well.
3. Augment your bath vanity with a showcase piece of art.
Hang an engaging and colorful shower curtain and set out washable, stylish rugs for both function and fashion. 
Think theater—when the shower curtain opens, the star appears: you! 
Step onto the "red carpet" and prepare for the day at your built-in vanity prepped by you, for you.
Shine Up Your Bathroom Vanity with Finery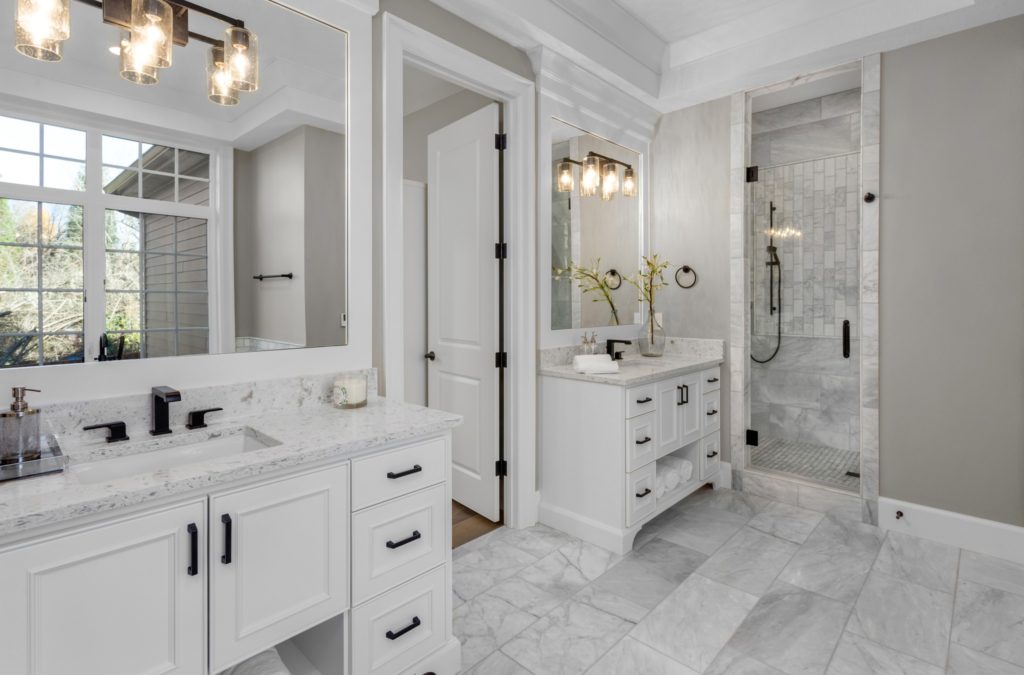 Aim for unobstructed counter space. Keeping the horizontal surfaces clear elevates the room's feeling of spacious luxury.
Extract products as needed from those new organizers in the cabinets and shelves of the built-in vanity. After use, return things behind doors.
Clean for yourself like you'd clean for company. This TLC can set the tone for your morning and be a sweet good night at the close of day.
Along with clean-lined space and cleaned surfaces, consider two more products that elevate the elegance of your built-in vanity:
4. Install (or hire installation of) a luxe light fixture to light up your space. Stylish sconces make a glam statement!
5. Swap out a standard rectangle mirror for a fun shape, and see your beautiful self featured in this fetching frame.
Soothe Your Senses at Your Built-In Vanity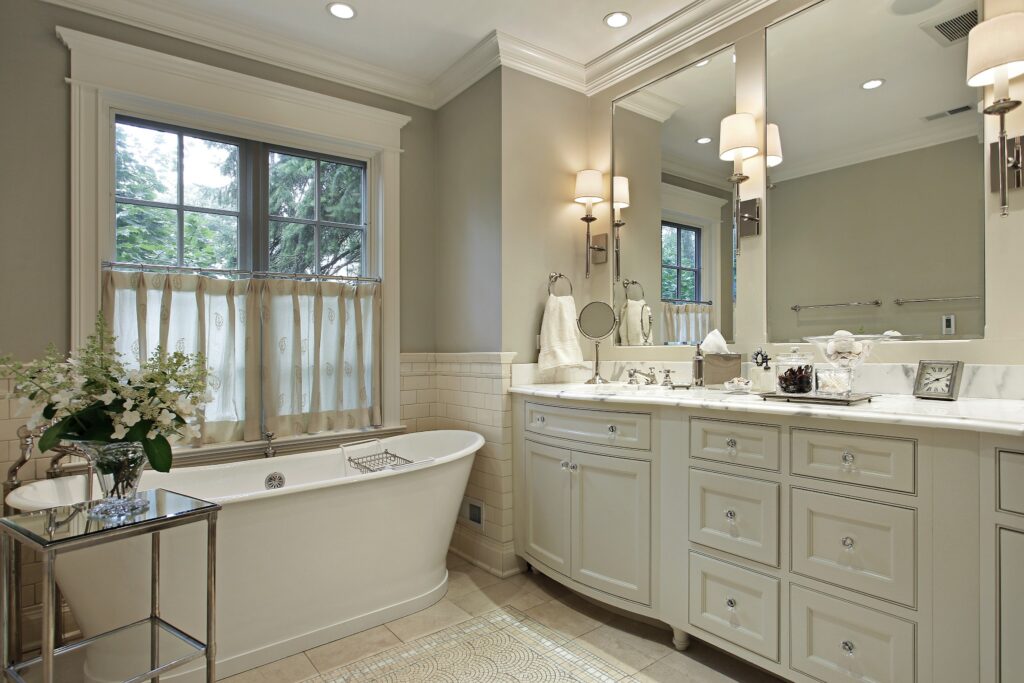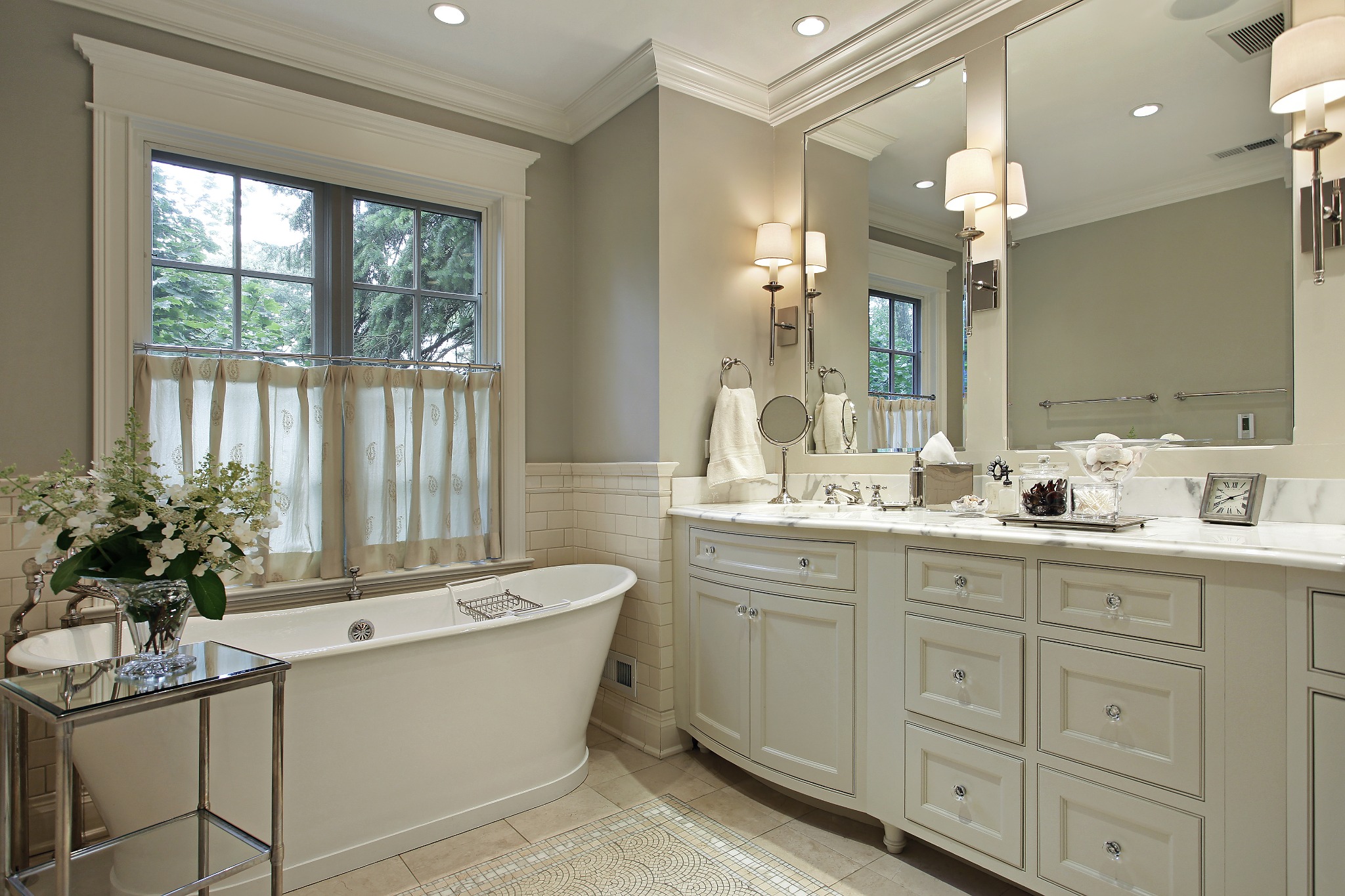 Fill the air with a pleasing aroma! Indulge in high-quality soaps and lotions, and even consider storing them in elegant containers. Consider these final luxe product ideas:
6. Display decorative soaps in a glass apothecary jar to appeal to your sight too.
7. Install a hanging vase display, and alter between quality artificial buds and fresh-cut flowers.
8. Stock your cabinets or a display rack with soft, plush towels. 
The final ninth inning for the most winning vanity feature is one you may not know of yet: heated countertops.
9. Install FeelsWarm countertop heaters to bring warmth to all stone counters, including marble, granite, and quartz.
Add luxury and comfort to your built-in vanity by installing this newer technology. Ultra-thin heating mats simply peel and stick underneath your vanity and plug right inside your cabinet in a standard outlet.
One of the standardized mat sizes may work for your built-in vanity. If not, the shape can be customized to fit just right. 
The mat heats your counter slowly to protect it from cracking that could happen with rapid temperature change.
Rest your bath towel on the warmed counter as you shower and enjoy its cozy wrap as you dry. Rest your hands, elbows, or forearms on your counter, and feel the soothing warmth emanate to your touch.
Enjoy the Elegance That Simple Products Add to Your Built-In Vanity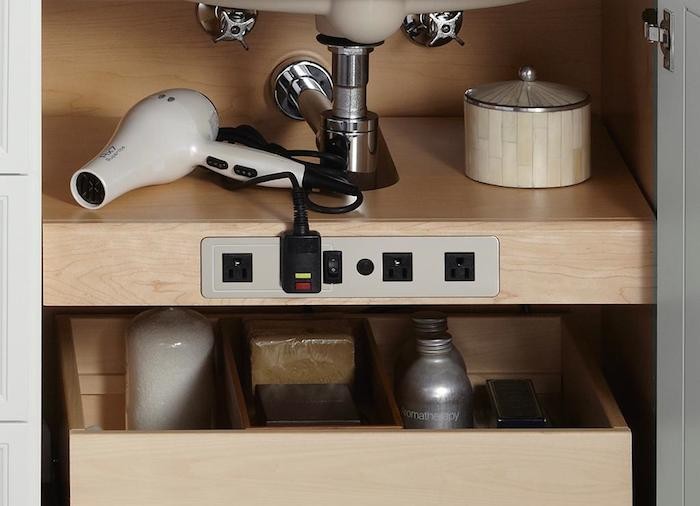 Without a full remodel, you can add elegance to your bathroom with some or all of the products described above. Let's review the options.
Organize with storage containers to bring the refinement of order. 
Use paint, art, and other decor to class up with color. 

Hang light fixtures and mirrors that shine and reflect with beauty.

Store and display personal hygiene items with sophistication by transferring your soaps and lotions to tasteful containers. 

While you powder your nose, appeal to your olfactory sense with fresh flowers or perhaps a reed diffuser. 

Cozy up in an ample cotton towel.

Best of all, enjoy your literally warmed-up space as you experience comfort from a

FeelsWarm

countertop. 
This is an elegant upgrade you can make today.
For warm tiles, you'd have to plan ahead to install rolls or mats into a redone tile floor. This is not so for a heated countertop.
You can easily adhere the thin mat under your built-in vanity. Vanquish the chill from your stone countertop, and revel in the comfort and luxury of your warm counter.