Out with the old and in with the new! With people spending a significant amount of time inside their homes during 2021, the desire to do home projects skyrocketed.
If you are one of those people itching to make some home improvements, specifically in your kitchen, then this list is for you.
The Top 2022 Kitchen Trends to Look For
GLAZED-TILE BACKSPLASHES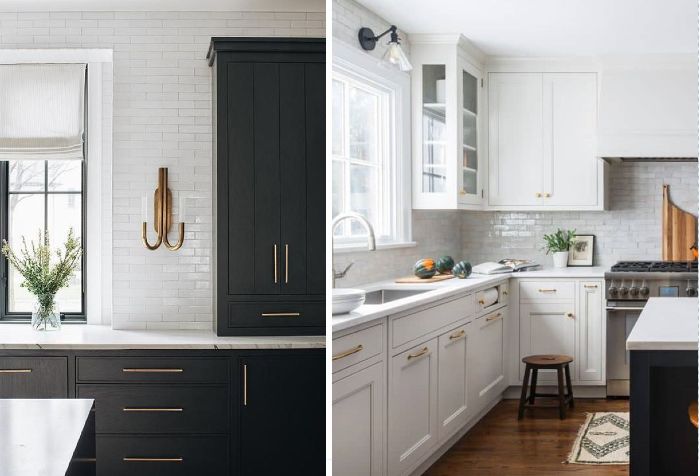 A newer upgrade to the subway-style trend from 2015, the shiny and slick finish of the glazed-tile backsplash catches light perfectly and goes with the look of almost any kitchen.
COUNTERTOP WARMERS

The downside of beautiful granite or marble countertops is how cold they feel to the touch. The simple upgrade of adding a countertop warmer under the area where you frequently lean is a luxury you didn't know you needed this year.
SOFT-CLOSE DRAWERS
A practical trend that is here to stay! Installing soft-close hinges on existing drawers has become a popular project, giving you a more elegant (and quieter) experience when cooking in your kitchen.
WOVEN LIGHT FIXTURES
If you're looking to add a relaxed, breezy feel to your kitchen, woven-style fixtures are the trend to shed a light on, giving you those natural contemporary vibes.
APPLIANCES IN DRAWERS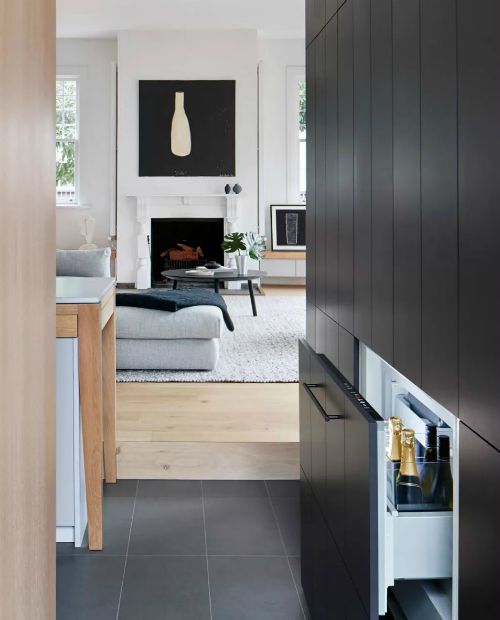 As easy to open as a normal drawer, the innovative dish drawer and cool drawer provide an array of functions that make life easier. Not to mention the seamless design will give your kitchen the minimalist look that is becoming more popular.
MARBLE COUNTERTOPS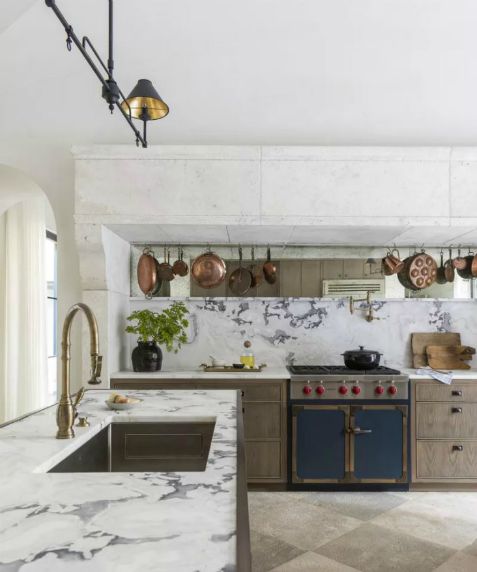 "In 2022, marbles with dramatic veining will take precedence over more demure slabs of years past," says Marie Flanigan, principal of Marie Flanigan Interiors. Is this the year that we start to say goodbye to all white kitchens?
DINING ISLANDS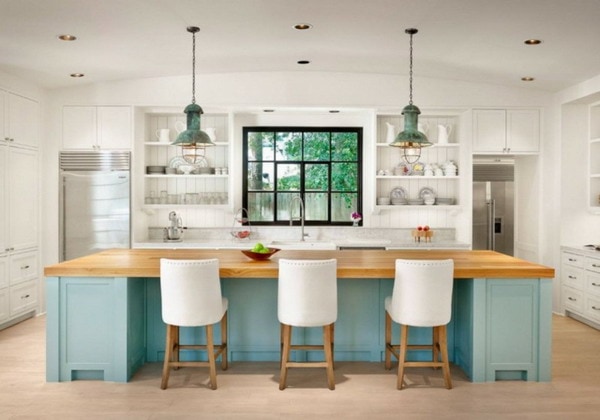 If you are someone who loves to entertain, why not combine your kitchen table with your kitchen island for the ultimate gathering spot? You will love integrating your cooking and socializing from one central area.
HEAVY METAL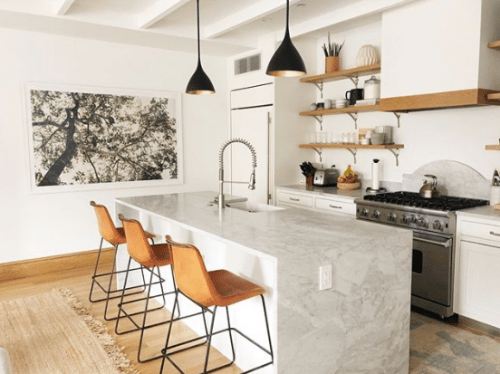 Metallic interiors are shining bright in 2022. When paired with light stone countertops, metal adds the warmth and contrast your kitchen needs to make it perfect.
EYE-CATCHING VENT HOODS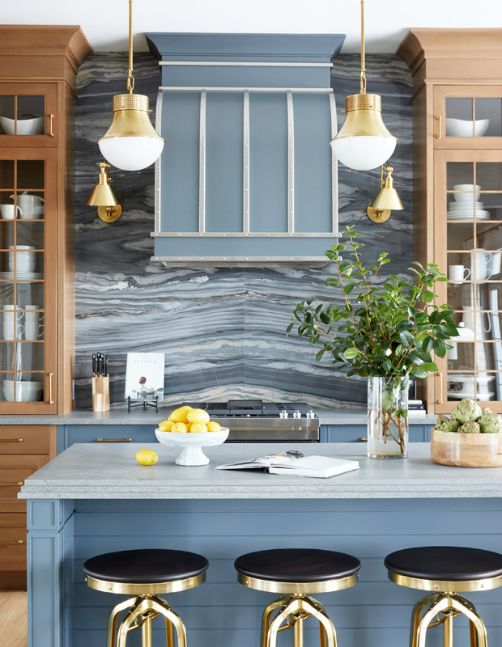 Good bye, stainless steel! Vent hoods are becoming increasingly popular as the kitchen's most eye-catching focal point. If you follow some of the top designers, you will notice this trend everywhere.
STATEMENT TAPWARE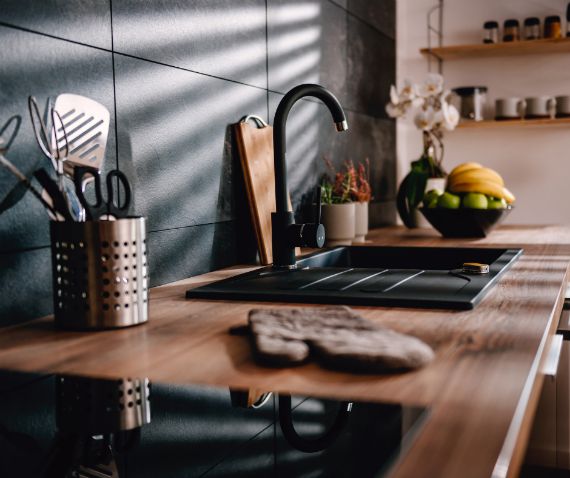 Stainless steel accessories aren't going away but what is expected to take over is brushed brass, matt black, and gold tapware. Draw the eye and compliment the cabinetry with any of these new materials.
GREENS & BLUE-GRAYS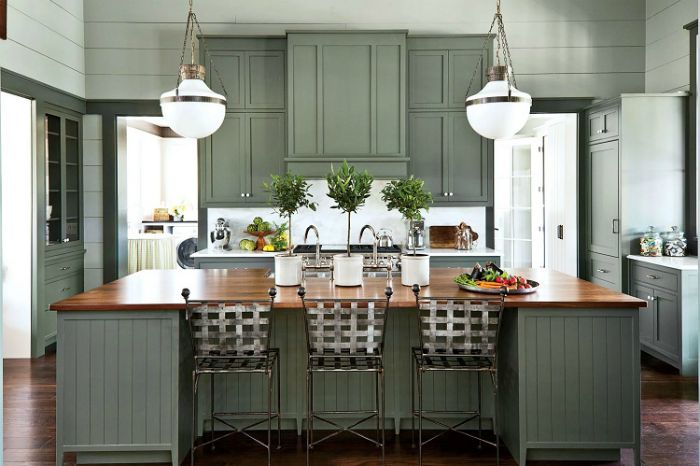 Experts everywhere are declaring that the green, blue and gray hues will be the up-and-coming color for kitchens and bathrooms for the next several years.
DEEP SINGLE-BASIN SINKS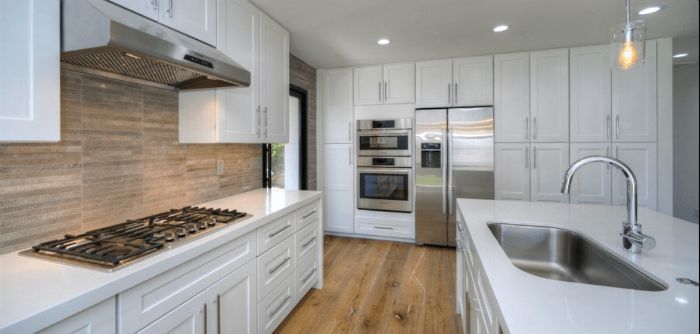 Deeper, one-basin sinks make soaking and washing dishes much easier than double-bowl sinks. This isn't a new trend but more and more homeowners are prioritizing this practical upgrade in their kitchens.
Which of these trends caught your eye the most?