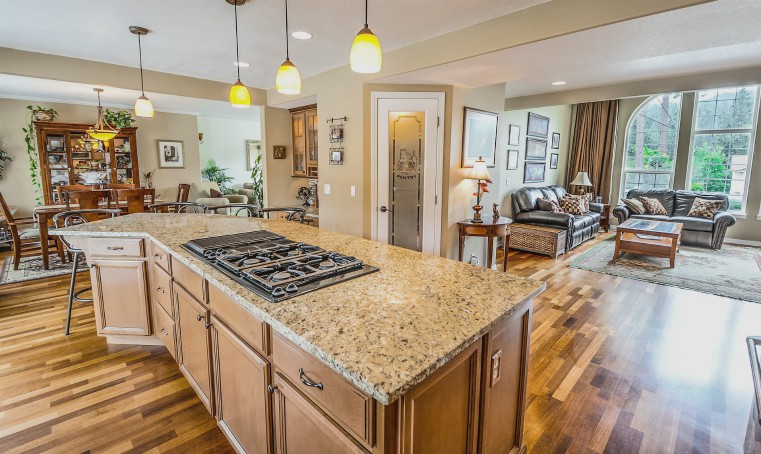 If you love the look of granite counters, but don't like the feel of granite counters in the winter, then you might want to consider heated granite counters. Yes, you heard right. Heated granite counters. If your first reaction is the same as mine, then you're thinking – extravagant, expensive to run, difficult to add on after counters are installed, not good for baking, not hygienic, and totally over the top.
I was wrong. And I love, love, love the heated counter.
Investigation
When I first decided to look into heating the granite counter, I looked at products that are used in radiant floor heating. It was heavenly on the feet in the bathroom, so why not retrofit it to use on the counter? I considered using an adhesive to fasten the mat and sensor to the counter, but this is not a recommended approach . Most companies that sell radiant floor heating mats, specify that mats should only be used in a bed of thinset. This is not just for safety reasons, but but also for durability. If I were to go with this approach (as some do), it meant using a plywood base with a mat in thinset under the counter. Thick, not real attractive, and not practical if you have drawers or cabinet doors with little room to spare under the counter. Hmmm…
Verdict
Then I found a product from FeelsWarm.com. The mat heaters came in stock sizes or could be made in custom sizes, and can be applied as a retrofit. Perfect. Since the counter overhang I wanted to install it on was long and deeper than standard, I needed a custom size.
The mat is very thin (.025 inches thick), so it didn't interfere with the cabinet doors, and wasn't noticeable even when looking at it from chair height in an adjacent room. It's also very smooth to the touch, so you don't snag it, doesn't feel hot, and has a durable top layer in case it gets bumped. It's a low voltage solution and doesn't have EMI emissions. I also find that plates of food and cups of coffee don't get cold as fast – bonus!
Just like radiant floor heating, it uses only about 10 watts per square foot to heat the counter. For a 6 foot counter, this is like running a 60w light bulb all day long. The heat from the mat raises the temperature of the granite by about 20 – 25 degrees higher than the air temperature.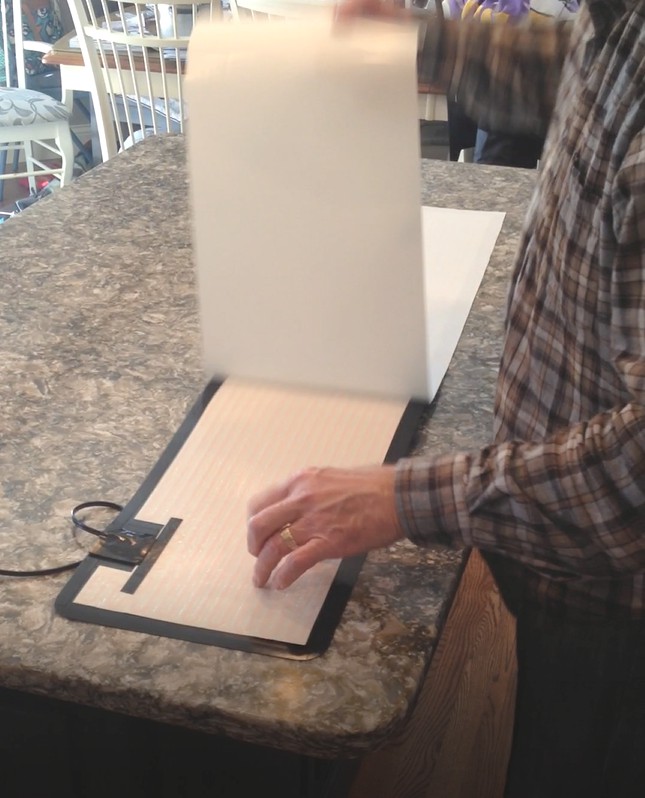 In our house, the temperature is about 69 degrees during the winter, so the heated granite counter would be around 90 degrees. This is higher than the 84 degrees that my bathroom floor temperature is set for, so I was initially concerned when purchasing it that it might be too warm. However, I found the temperature very comfortable and not too hot at all. Cloth place mats feel incredible on the counter – very luxurious. 
If you find the temperature too warm,  a temperature control option comes with the heater to adjust the temperature to your liking. To reduce energy usage, a standard timer purchased at your local hardware store can be used to turn it on 30 – 60 minutes before use. 
I would consider heating only the area where people sit. This leaves the remaining counter cool, which is ideal for rolling out dough, and keeps the installation and heating cost for the counter down.
New Construction
If you are already installing new countertops, consider having the integrated version embedded into the stone so it's flush with the under surface. You could contact FeelsWarm for authorized dealers since the company is currently growing a network of authorized dealers and fabricators.
If you have hydronic radiant heating you could consider running a loop with a shut off under the heated granite counter. However. this may not provide as sleek a solution as the embedded mat.
Disclosure – I received no compensation for reviewing this product. Source: GoodKitchenDesign.com