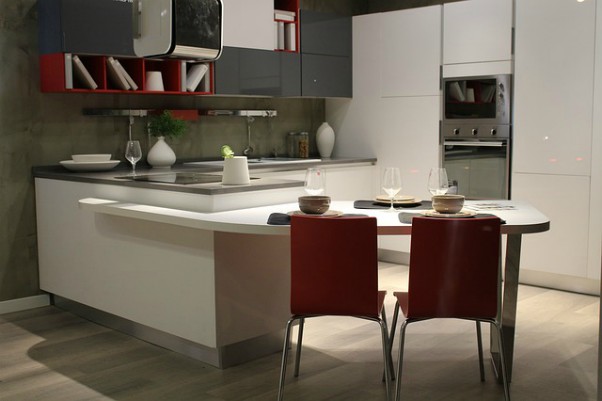 "Accessories and interior fittings are increasingly important tools for containing clutter to create the sense of calm and relaxation homeowners crave," states Elizabeth Richards of Kitchen Bath & Design News. "These days, there's almost as much focus on the inside of cabinets as on the exterior."
Take a look at some of the high-end products that were featured in the July 2018 KBDN Product Trend Report.
Planero is the first shelf developed by Vauth-Sagel to feature a flat steel design, with a powder-coated steel plate formed around an inlaid wooden shelf. The tray shelving system, which is available for almost all the firm's product groups, is available in champagne, lava grey and silver.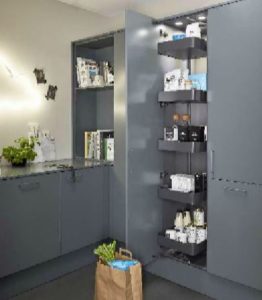 Ditra-Heat-Duo uncoupling membrane from Schluter Systems reduces sound transmission, in addition to warming the floor and supporting the covering.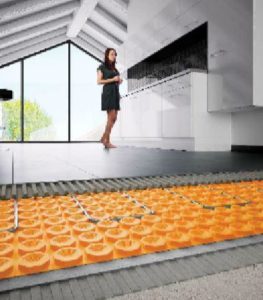 Prep and Cutting Boards from Federal Brace are crafted from food-grade stainless steel with antibacterial and non-leaching properties. Resting feet are attached to the board to prevent countertop damage.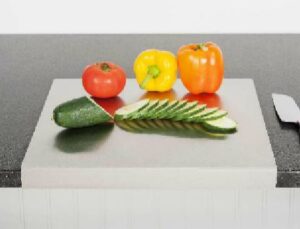 These discrete heating mats are designed to be used under countertops, and take the chill off of granite, marble and stone surfaces. Available from FeelsWarm, the ultra-thin mats also come with a subtle hardwired electrical connection.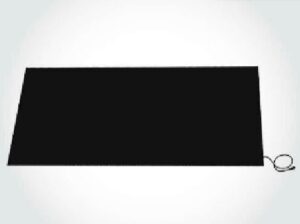 Bradco Stainless Products now offers a two-tier option for its stainless cutlery drawer inserts. All inserts are custom built to fit an existing drawer and are available for both timber drawers and drawer systems. The upper tier is removable for buffet-style dining.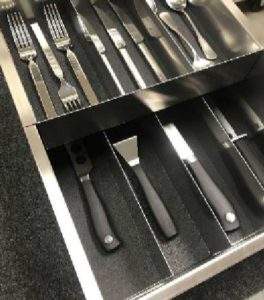 Designed with an integrated light shield, the Sempria S Series LED fixture by Task Lighting works well for interior cabinet lighting. When mounted under shelves or tucked in the corner behind the face frame, the angled flange conceals the light from direct view and provides even illumination.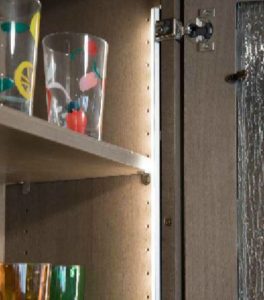 Rev-A-Shelf's 4SDI Spice Drawer Inserts, now available in walnut, are designed for 24″ or smaller base cabinet drawers. The trim-to-fit insert features walnut construction with a satin finish, one rear storage compartment and up to three tiers for spices.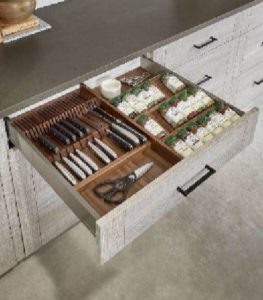 Knife Block Drawer Boxes and Knife Block Drawer Inserts from Keystone Wood Specialties are available according to specifications. The dovetailed drawer box can be ordered with the insert, or the insert can be ordered by itself. They come prefinished or unfinished, in any available wood species.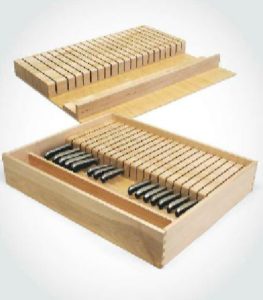 The No Wiggle 8″ Utensil Bin Base Cabinet Pullout from Hardware Resources includes patented hardware that prevents the pullout from shifting. The base cabinet's top shelf holds four stainless steel bins, while the bottom shelf has chrome rails that ensure other kitchen equipment stays stowed.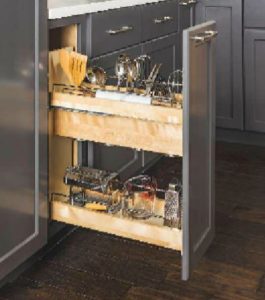 Doug Mockett & Co. presents Pop-Up Kitchen Power, a power solution for kitchen countertops. This water-tight and GFCI-rated power solution can be pressed to pop up when needed and pressed down to hide away when finished.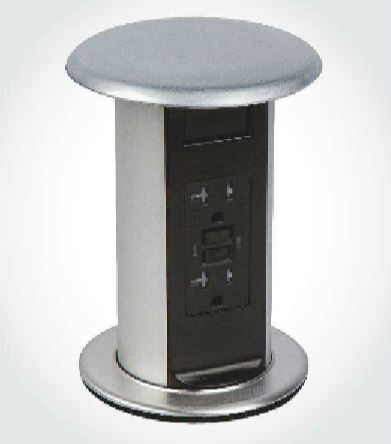 In the radiant floor heating system from Uponor, warm water circulates beneath the floor through PEX tubing to warm the floor's surface. Radiant systems are compatible with any floor covering, including carpet, tile, hard-wood, linoleum, slate, bamboo, cork and even concrete.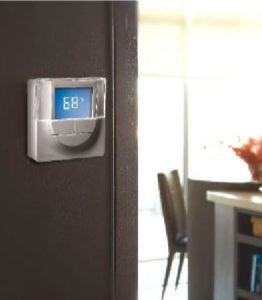 Custom Dovetail Drawer Boxes/Pull-Outs from WalzCraft are made to order and are available in a variety of wood species, grades and finish options. Options such as scoops, ears or side panels can be added to create a customized storage solution.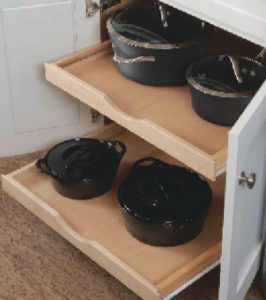 Diamond Plate Non-Slip Mats are slip-resistant mats made of 100% recyclable polystyrene. Available from Peter Meier, Inc., the mats feature a natural rubber top layer that seals in spilled liquids and prevents them from seeping through the cabinet. The mats are cut-to-size for a custom fit.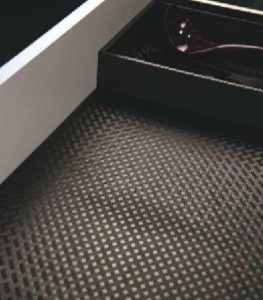 Organized Living Kitchens Organizers add space in pantries and kitchen cabinets, and range from Baskets to Shelf Riser and from Beverage Can Dispensers to Under-Shelf Baskets. These organizers are available in White and Nickel finishes to match the kitchen decor.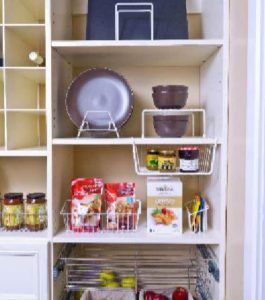 The InSinkErator Evolution PRO Series grinds more with less noise due to patented MultiGrind and SoudSeal technologies, notes the company. The top-of-the-line model features three grind stages, an Auto-Reverse Grind System, a Jam Sensor circuit that detects and eliminates jams, and a 12-year warranty.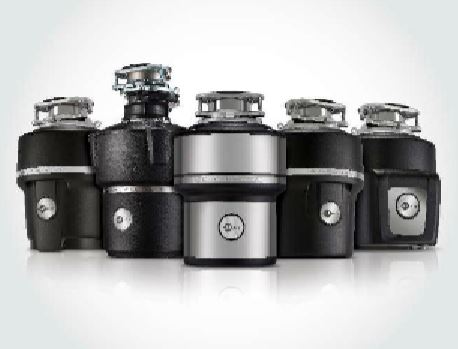 VintageView's Evolution wineRODS can either be drilled into the sides of cabinets or mounted using holes in panels. The wineRODS can be configured in multiple patterns to fit different bottle sizes, and are available in Chrome and Satin Black.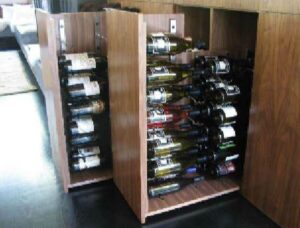 The Canister Pull-Outs by Century Components are designed to sit flush with the shelf to deliver plentiful utensil storage.