As more and more homeowners are adding this luxurious item to their kitchen countertops, others are becoming more curious about how the concept works. Below are five common misconceptions about heating your countertop that may make you want to get the product yourself.
1.   You must buy new countertops if you want them to be heated.
False. In fact, many homeowners choose to heat their countertop after their granite or quartz has been installed. After spending thousands on a kitchen renovation, people are often unhappy with how cold the surface feels to lean on. Luckily, a countertop heating mat can be added even after your countertops are installed. 
2.   Heated countertops are pointless.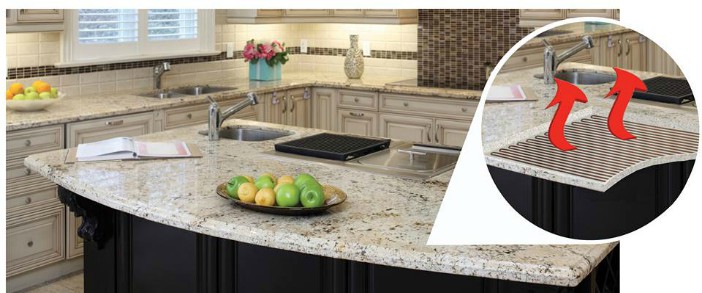 While heated countertops are a luxury item that may not be for everyone, there are many benefits of this unique product. "My wife has fibromyalgia and the cold temps of the quartz would literally cause her pain," says Brian C. in Seattle, Washington. "Now she loves our countertop and puts her arms and hands on it without pain." Click here to see more wonderful benefits of heating your countertop.
3.   You must hire an electrician to do special wiring.
False. The stick-on heating mat is marketed as a DIY product, meaning that anyone with basic handyman skills can apply the product without the help of a professional. The mat plugs into a standard outlet, utilizing only as much power as a laptop utilizes.
4.   Cold countertops are better for cooking.
We actually agree with this statement, but did you know that you don't have to heat your entire island? Most people choose to only heat the overhang area where barstools are located so that they get the best of both worlds. Cold countertops on one side for cooking, and warm countertops on the other side for comfort.
5.   A floor heater can be used to heat your countertop.
This is not recommended. Floor heaters typically use 120 (or 240) volts and cycle on and off to arrive at a surface temperature range. This temperature fluctuation causes stress and fatigue in the stone, introducing the potential risk of damaging or cracking your expensive, high-quality countertops. We suggest buying an ultra-thin heating mat designed specifically for countertops. 
What do you think about the latest trend of heated countertops? Share your thoughts with us on Facebook!
By now you have probably heard about the latest kitchen trend: heated countertops. My husband and I hopped on the heated countertop train a few years ago and I am here to tell you about why we are so happy that we did.
Here are the top reasons why I recommend heating your granite countertop.
My bare arms aren't freezing anymore.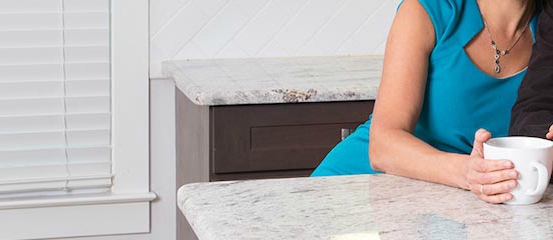 We leave our heated countertop on even in the summer because no matter the temperature outside, granite still feels cold inside. Taking away that coldness, especially when I'm not wearing long sleeves, has significantly helped me in the morning.
My kitchen feels homier.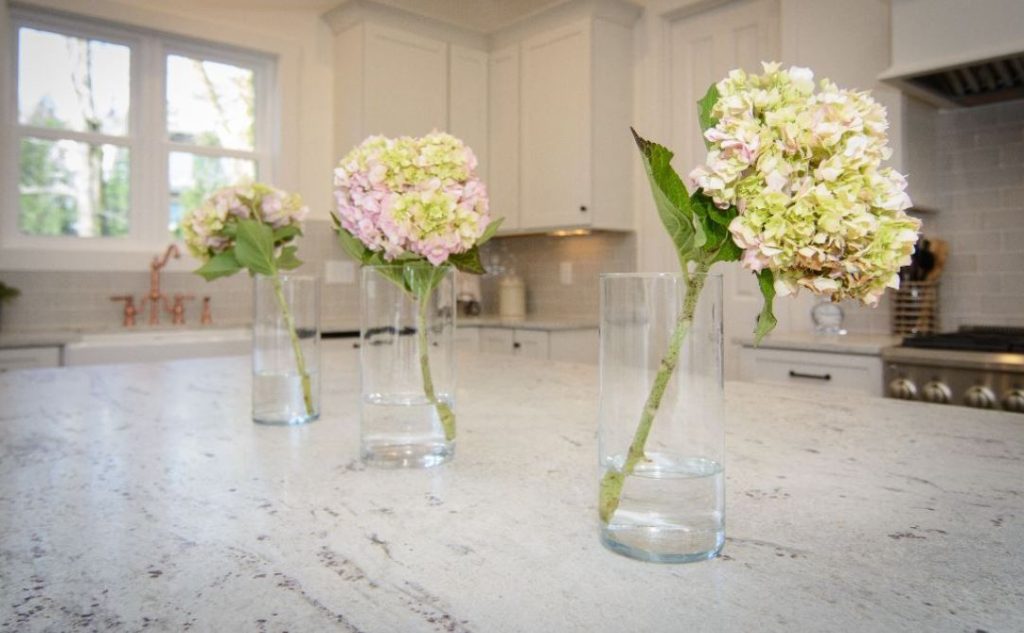 Similar to how our fireplace feels in our living room, the little bit of warmth on our island makes me feel cozy and comfortable in the kitchen.
I don't have to turn it on and off.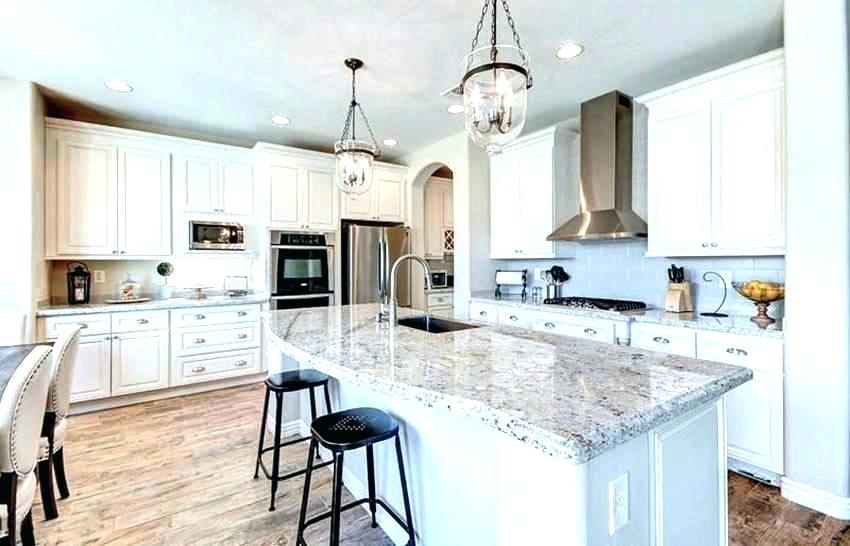 The heating pad uses very little wattage so it has been convenient to leave it running 24/7. The cost to run our heated countertops is comparable to leaving a laptop plugged in.
It's a great talking piece.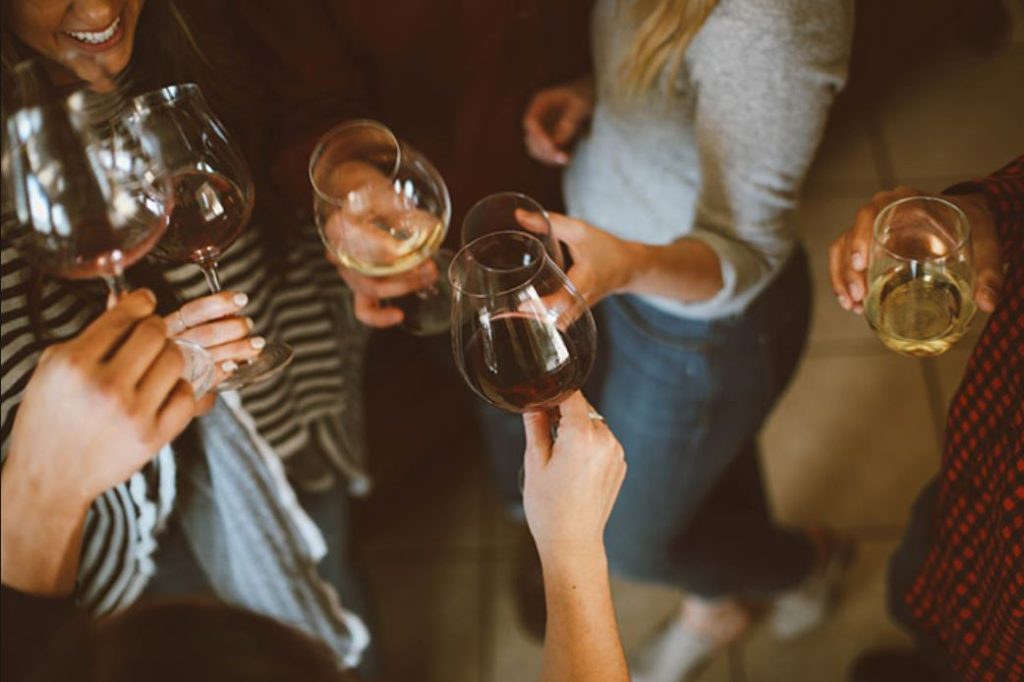 My husband and I love to host year-round and we've enjoyed seeing people's reactions when they feel our warm granite. Most of the time they never even realized that you can heat your overhang. It definitely has been fun to show off.
It was easy to install.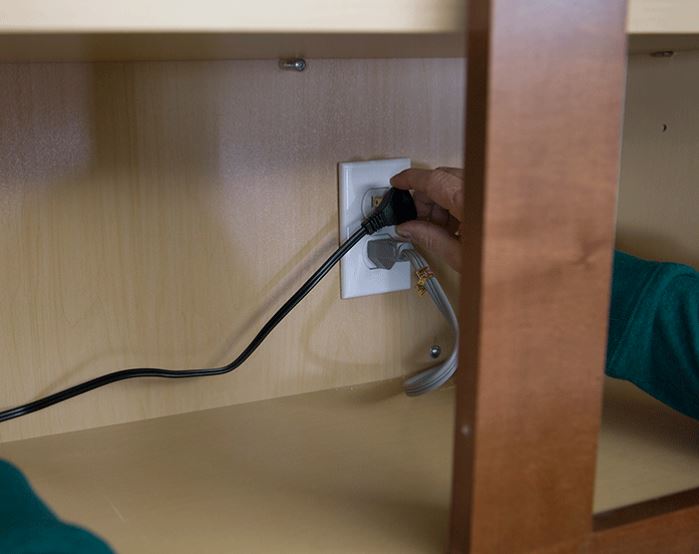 We didn't decide to get heated countertops until after our granite was installed. Luckily, it was very easy to order a heating pad that fit under our overhang and then we were able to stick it on ourselves.
The other side of my island is still cold.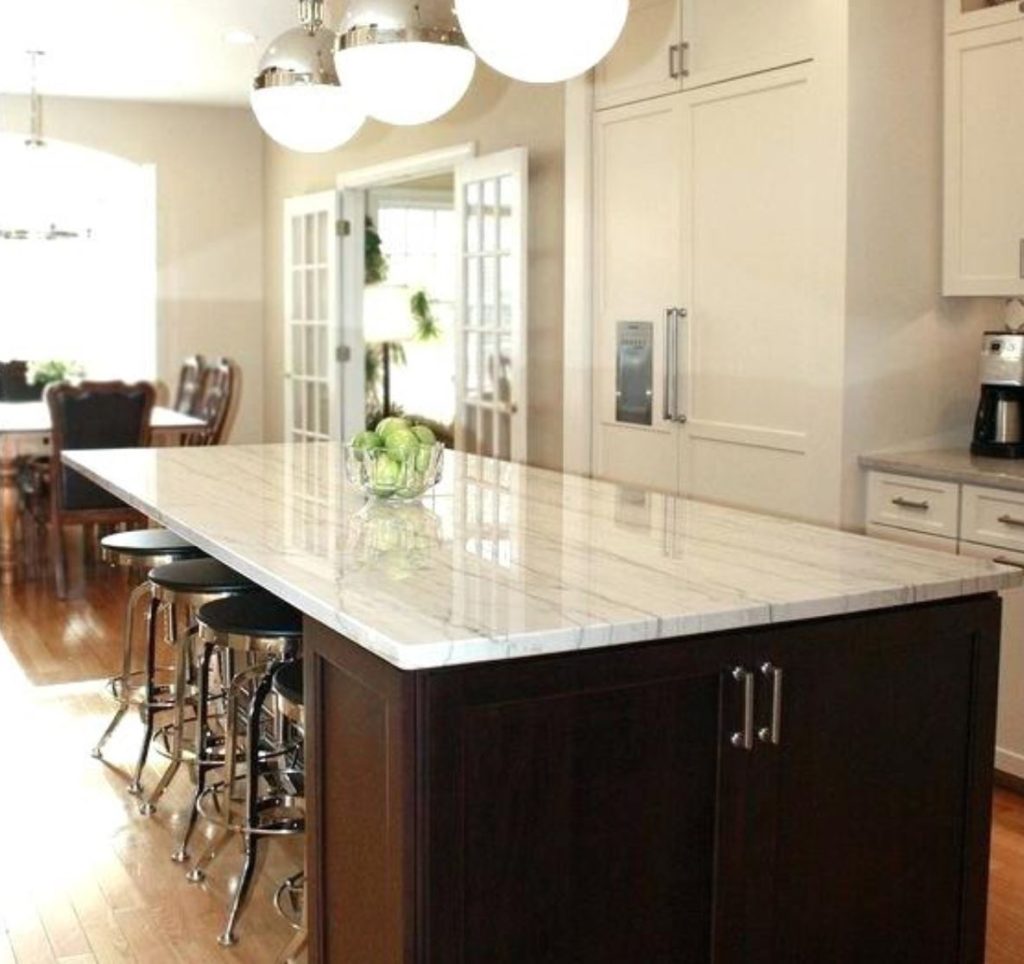 It has been nice, especially when cooking, to have just the overhang warm and have the rest of my countertop cold. The only area I really care about being warm is where I sit and rest my arms every day.
My food stays warm.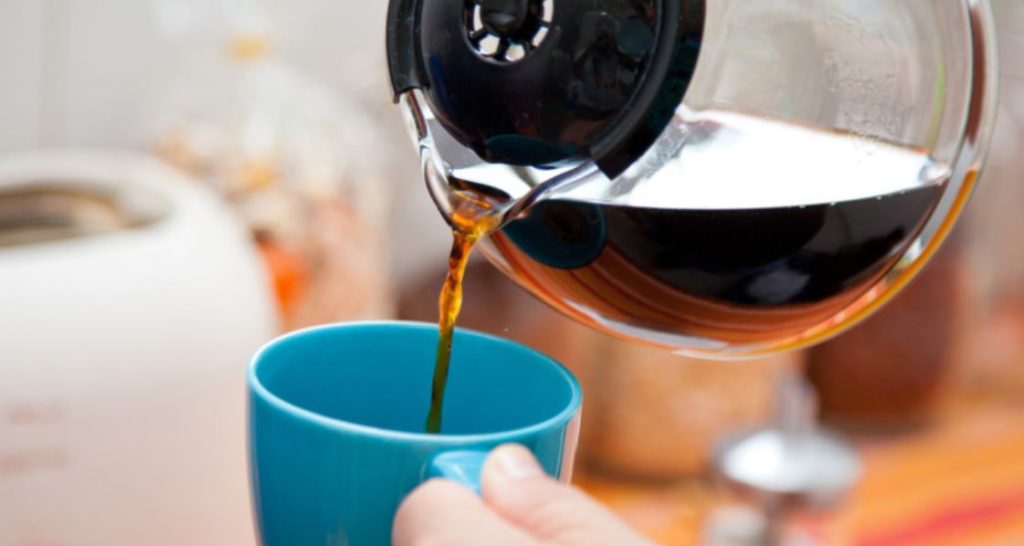 A unique benefit that never even occurred to me is how much longer my plates and dishes stay warm. I drink my coffee slowly, so having a warm countertop has helped me avoid trips to the microwave to reheat my mug.
If you are someone who is always cold or hates sitting at a cold table, I highly suggest heating your countertop. It's something I appreciate every day!
-Submitted by FeelsWarm Customer, 2019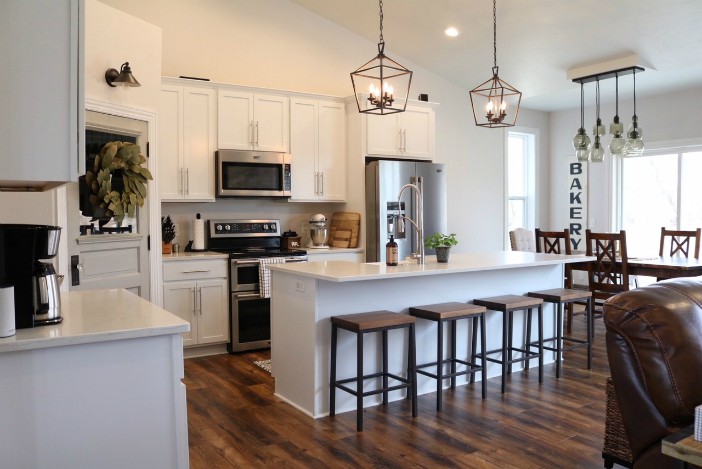 After renovating your kitchen with beautiful granite or quartz countertops, you may discover how cold the surface feels to lean on every morning. This is a common complaint from many owners of stone countertops and it can be a major disappointment after spending thousands of dollars on a full kitchen renovation.
Luckily, heated countertops are a luxury that can be added even after your countertops have been installed. The best part? You can add them yourself without hiring outside help.
A stick-on heating mat, designed specifically for stone countertops, applies directly under your countertop overhang, heating the area where you most frequently sit. The rest of your countertops can remain cold which is ideal for cooking or for setting your cold beverages.
The ultra-thin mat (less than 25 thousandths of an inch thick) can be designed to perfectly fit the shape and size of your current countertop, including corbels and curves. Simply plug the mat into a standard outlet inside your cabinet and you'll be enjoying heated countertops all year long!
Below are 5 examples of homeowners who are happy that they added heat to their existing countertop.

"My best (indulgent) purchase EVER! We sit at the counter all the time and everybody comments on how awesome it is. Believe it or not, it actually warms the entire kitchen. I couldn't be happier with the product."  -Meghan M., Nashua NH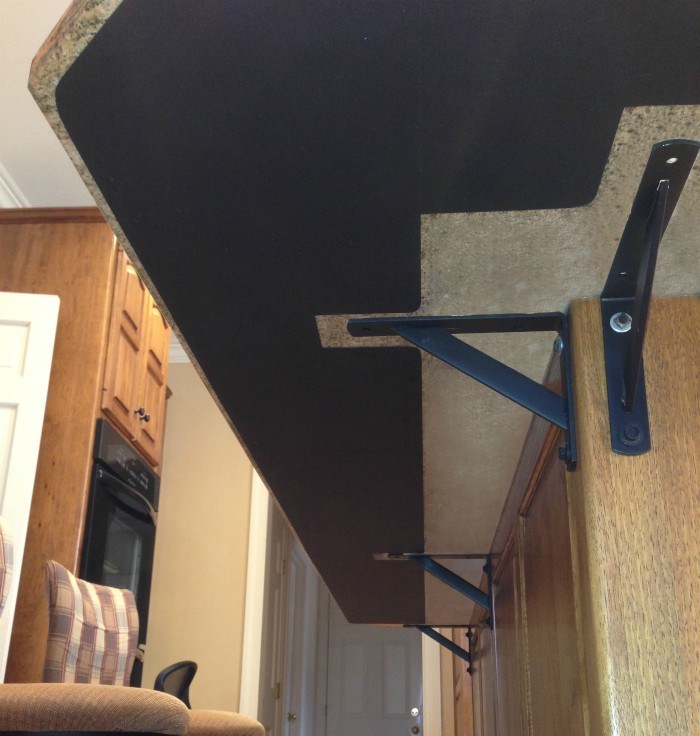 "You really don't know what you are missing until you have it. I now have such a bigger appreciation for my countertop and my wife loves it!" -Matt L., New Haven IN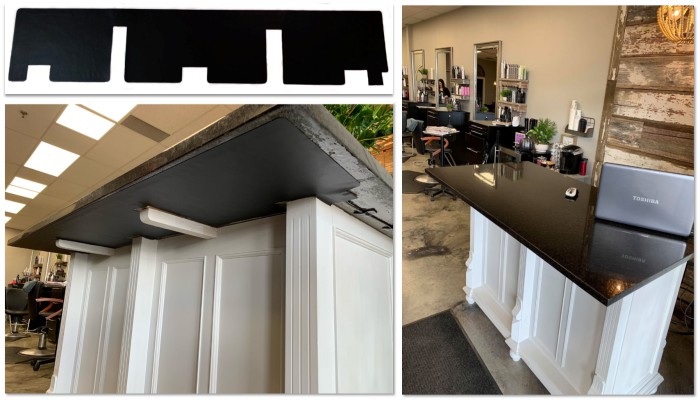 "The welcome desk at our salon was always cold for guests to lean on. Now we get compliments all the time on how nice the counter feels, especially in the winter." -Sarah T., Lakeville MN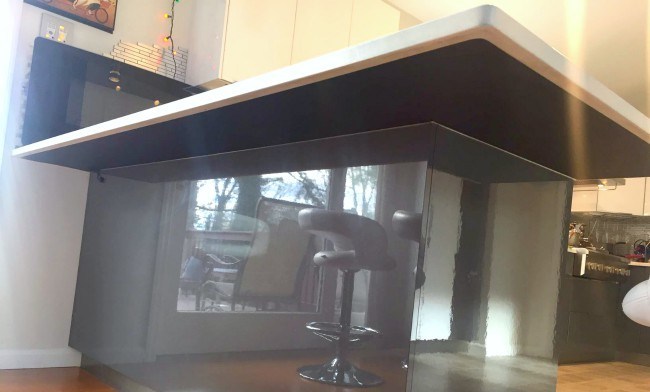 "I love the fact that my food does not go cold in a couple of minutes after I put the plate on the counter any more and that I can lean on my countertop and feel the cozy warmth. Highly recommend!"  -Anna K., New York NY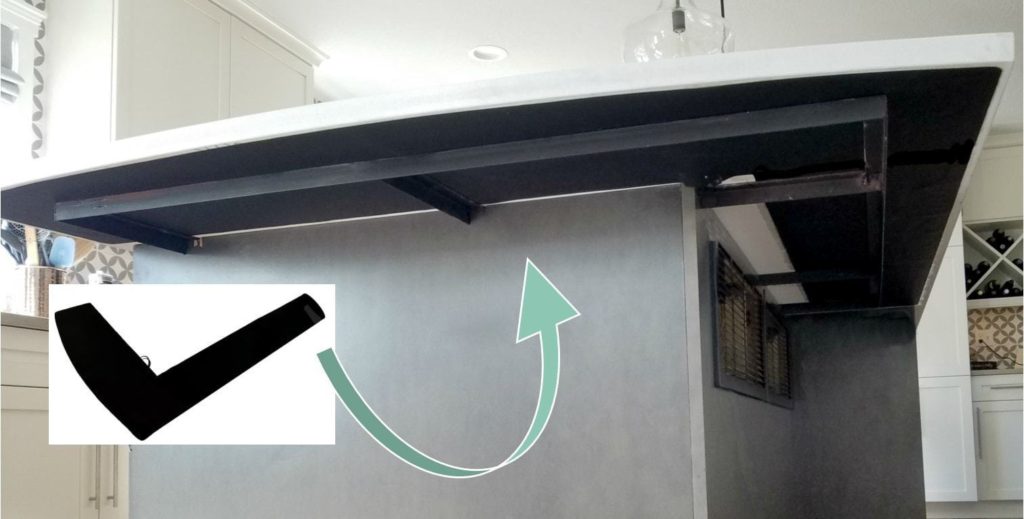 "We purchased the FeelsWarm heating mat for our granite countertop a few months ago & we love it! It does a tremendous job at heating the granite. It heats the countertop just enough to take the initial shock away when leaning on it with bare arms." -Becky S., Audubon IA
Ever considered heating your countertop? Get a quote for your own custom heating mat today!

At an average of $50 per square foot, granite is certainly an expensive material for kitchen countertops. For good reasons, homeowners continue to select this elegant surface for its durability and overall beautiful appeal.  
However, there is one common criticism from owners of granite countertops and that is how cold the surface feels to lean on. While some may like the coldness, many do not appreciate how unpleasant granite feels against the skin. Luckily, there is a product that fixes this problem, one that does not involve hiring outside help.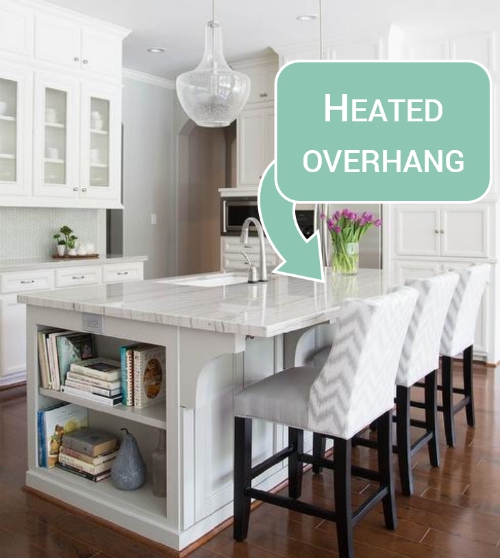 Stick-on heating mats for granite and stone countertops are becoming wildly popular, especially during the cold winter months. There is no other product out there that can properly heat up your countertop while requiring very little work to do so.
The heating mats, which are designed to fit the exact shape and size of every unique countertop, use a simple peel-and-stick method underneath the counter's overhanging area where guests most commonly sit. Also available in standard rectangular sizes for desks and straight edges, the mats plug into a standard outlet commonly located inside the cabinetry. 
"We always use it when we have guests over in the wintertime and people can't believe how nice it is," says Melva G. from Nicollet, MN. "They don't want to sit anywhere else because it is so warm on their arms."

Practically invisible and very easy to install, it's no wonder why homeowners are loving this improvement of their luxurious countertops. With a free-trial available, why not give it a try on your countertop?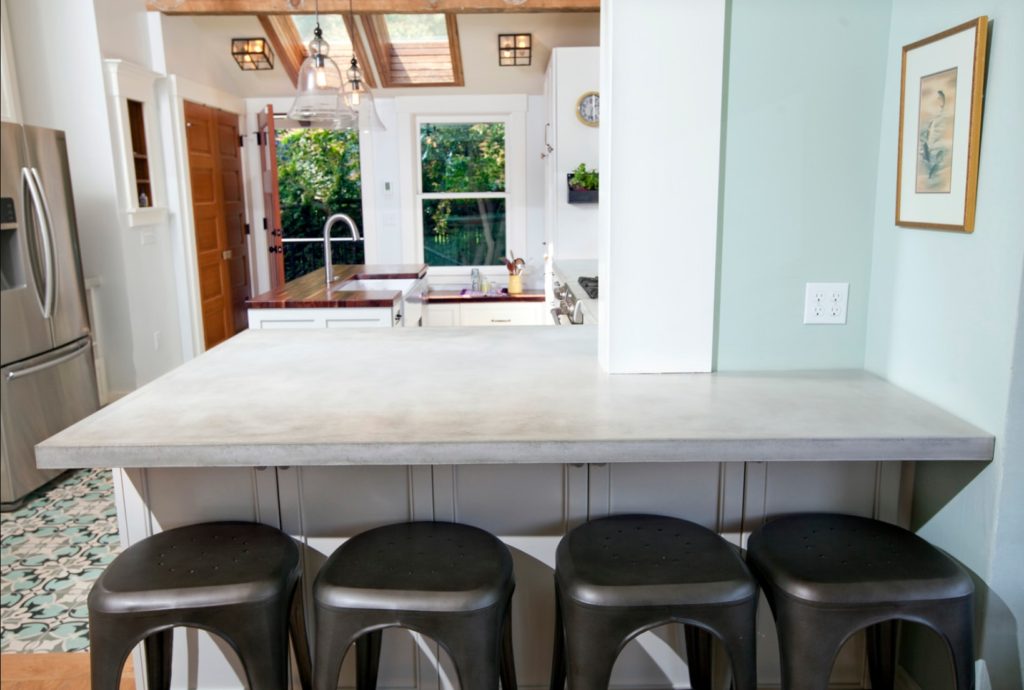 Historically, remodelers had to expend a great deal of pre-planning, researching and engineering to meet the requests of clients desiring heated countertops. This made the feature expensive and limited to high-end homeowners and businesses.
But heating concrete countertops is no longer a challenging feature.
Heating Countertop History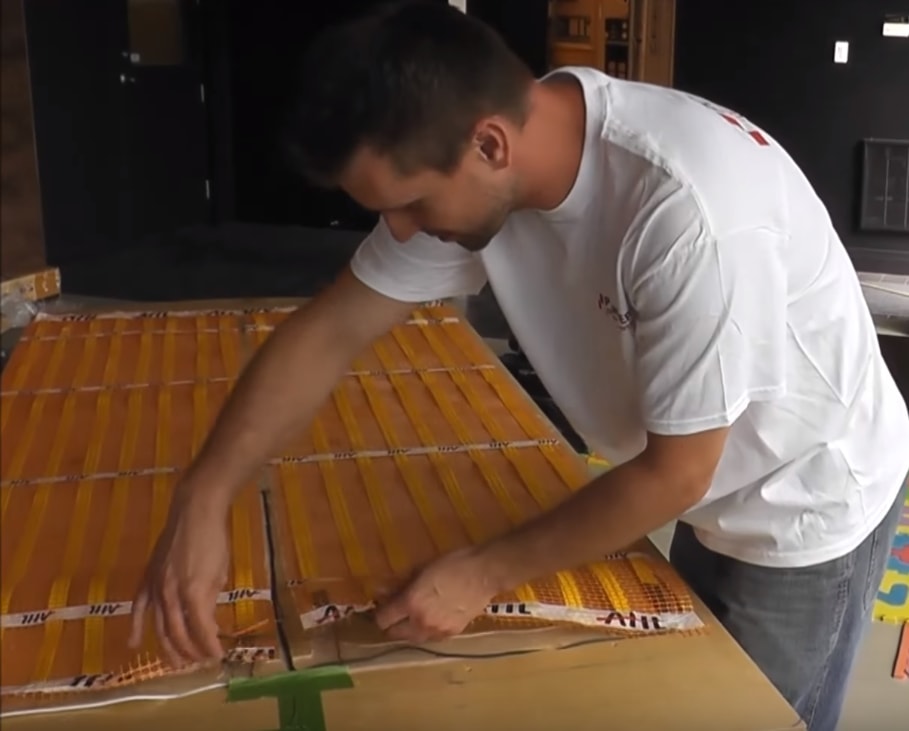 The original method of heating countertops was to utilize floor heating coils and place them onto the substrate that the pre-poured concrete countertop rests upon. The contractor needed to create channels in the substrate so that the thick wires could rest below the surface of the plywood and not get compressed by the concrete.
In addition, floor heating mats commonly draw a significant amount of power, making it very challenging for a renovation of an existing finished home.
The overall process to prepare and design the heating solution commonly took 4-8 hours.
Specially Designed Heating Mats
In recent years, the countertop heating solution has transitioned from floor heating to ultra-thin heating mats that are created specifically for countertop use. 
The new generation of heating mats provides a breakthrough for three reasons: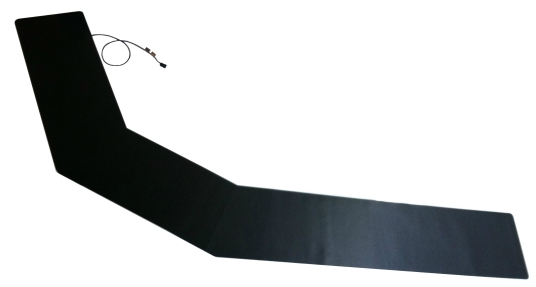 1.  They are produced using thin highly-ductile foil that can be compressed by hundreds of pounds. This thinness also enables the pads to be attached directly to the pre-formed concrete countertop under an overhang area without requiring the substrate to extend to the overhang edge. 
2. The mats are custom- produced to any shape or size to match the countertop and cabinet design. Plus the mats are usually not sized for the entire counter. They are just placed in specific selected areas – typically just where people rest their arms.
3. The new style of heating pads operates on low voltage, utilizing common power transformers that plug into standard outlets.
Three Basic Installation Types
Despite a wide variety of custom countertop and cabinet designs, there are generally two basic approaches that concrete countertop heating pad manufacturers take into consideration when designing the pad. A third option exists for concrete counter fabricators who want to integrate the heater into the wet concrete.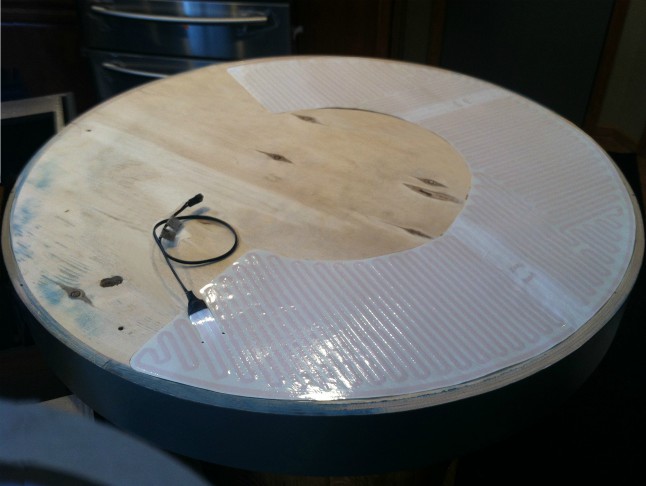 1. No Overhangs/Full Substrate: The heater is simply rolled out onto the substrate and the tail of the heaters is fed down into a small hole. 
Next, the concrete counter can be placed directly on top of the heater. The material construction of the heater can handle the weight of the concrete without damage.
2. Overhangs and Cabinets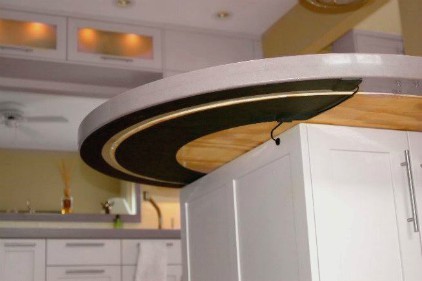 Without Substrates: The heater is mounted onto the underside of the concrete and will remain permanently attached. For heater installations with a countertop overhang, the heater is attached to the concrete overhang ½" away from the outer edges. If the heater is being attached after the concrete is on the cabinet or is an aftermarket installation, the heater may have cut-outs or unique shapes that accommodate corbels, supports, or other features of the cabinet.
3. Embedding the Heater into the Concrete During Pouring: A third option is to integrate the heating pad within the concrete as the top is being formed, submerging the heating pad when the concrete is partially poured into the form, then covering the heater with additional wet concrete. This approach requires a slightly modified heater that has the electrical cord well protected from the rigors of handling and chemistries. A special rugged strain relief is utilized with the cord for this purpose.

Finally, the heater is plugged into the controller, the controller into the transformer, and the transformer into the outlet.
Want to learn more about heating concrete, granite or quartz countertops? Click here to see how it works.