HOW COUNTERTOP HEATING WORKS
ULTRA-THIN HEATING MAT WITH UNIFORM PATTERN
FeelsWarm countertop warming mats are ultra thin (1/32″) and are custom-engineered for each stone including shape, wattage, and electrical input location. The product is designed to overcome the poor thermal characteristics of stone by uniformly heating throughout the area where the mat is placed without cold zones.
Utilizes low voltage (12-24 Volts) for complete safety.
Warms only where you commonly touch.
Plugs into a standard outlet with temperature adjustment.
Our countertop heating uses a passive warming system to slowly warm the stone, taking 90 minutes to raise the temperature. This slow warming approach and lack of temperature pulsing eliminates any shock into the stone. Read more about the safety of countertop heating.
Due to the thermal properties of stone (granite, marble, quartz etc.), heat does not radiate far, which is why we recommend placing the mat as close to the front edge as possible for optimal warmth. Homeowners typically leave their FeelsWarm countertop running at all times since the product draws very minimal power (less than 2 amps).
Purchase a stick-on heating mat, one that can be customized to fit the exact size and shape of your overhang.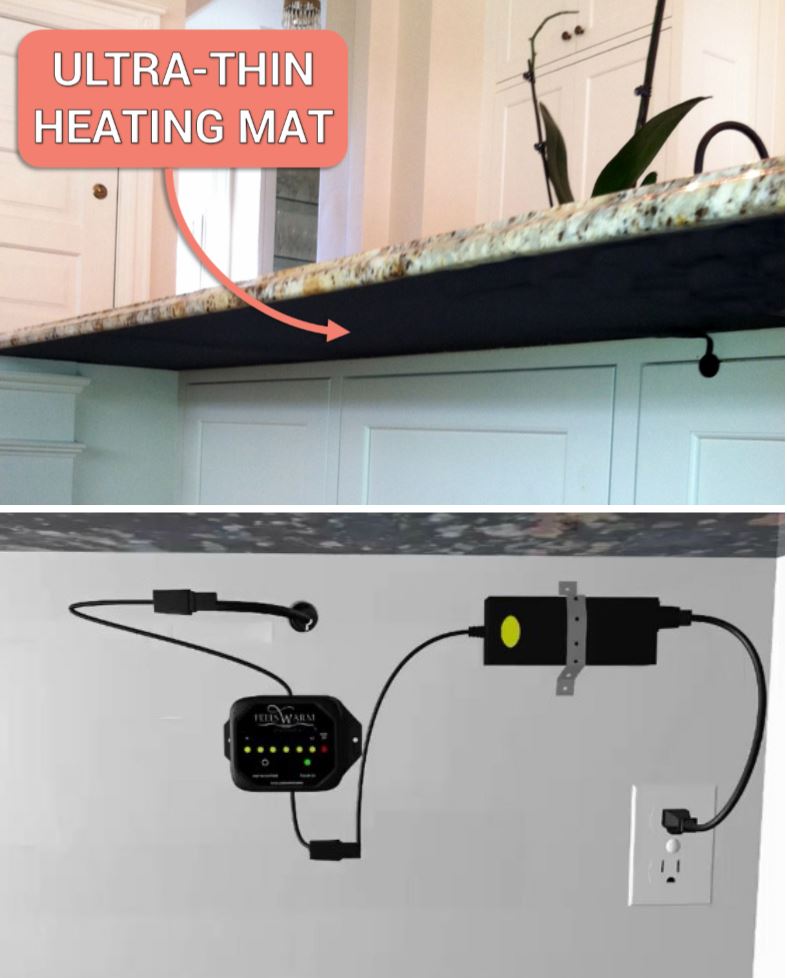 Plugs into a standard outlet using a custom low-voltage transformer.
INTERESTED IN WARMING YOUR STONE COUNTERTOP?

Remove the cold feel of your island or desk with a FeelsWarm countertop warmer.