NEW COUNTERS WITH AN OVERHANG
APPLYING THE STICK-ON MAT TO A NEW COUNTERTOP 
FeelsWarm ultra-thin heating mats can be easily applied during a countertop installation. Simply peel and stick the mat onto the stone before it gets placed onto the cabinetry, being mindful to not pinch or pull the cord when laying down the stone. If there will be supports or if the mat extends into the cabinetry, the mat can be compressed in between the stone and any base. (The only section that can not be compressed is the small area where the cord exits the mat).
Prepping the Surface
SMOOTH GRANITE
If the underside of the stone is smooth or polished, no steps are required to prep the surface for the adhesive mat.
"ROUGH" GRANITE
Applying a light layer of epoxy (included with each mat) is required if the underside of the stone is not smooth granite. This step can be eliminated by using a stubbing wheel on your CNC machine to surface grind where the mat will be mounted.
QUARTZ, MARBLE, CORIAN OR WOOD
Applying a light layer of epoxy (included with each mat) is required. You may choose to brush on your own generic epoxy in your shop before adhering the FeelsWarm mat.
Adding FeelsWarm in the Factory
NEW COUNTERS WITH NO OVERHANG
APPLYING THE COMPRESSED MAT TO A NEW COUNTERTOP
FeelsWarm provides an option for the heater to be compressed in between the stone and a solid substrate underneath.
Our compressed heaters can handle the weight and compression of any stone countertop, which can be as high as 30 lbs per square foot. Plus, the mats are designed to comply with uneven compression forces due to non-flat wood such as gaps in the wood, raised cabinet edges, embedded supports and non-smooth bottom surfaces.
All of our heaters are  'ductile', or soft/pliable, enabling them to bend and conform instead of breaking during a compression action.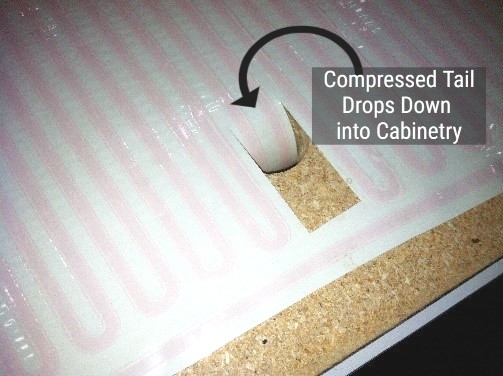 COMPRESSED VS. STICK-ON HEATERS 
There is little difference between the two versions, except for how the heater is installed. With our compressed heaters, the cord is embedded within the design of the mat, allowing you to drill a hole in the substrate and feed the cord through the cabinetry below. 
Because the stick-on mat is exposed underneath, there is a smooth scratch-resistant layer for added protection. The stick-on mat can handle just as much weight as the compressed version. 
INTERESTED IN WARMING YOUR STONE COUNTERTOP?

Remove the cold feel of your island or desk with a FeelsWarm countertop warmer.