HEATED SHOWER BENCHES
For Optimal Comfort in your Bathroom
If you are remodeling your bathroom or building a new home, you've likely considered the common upgrades such as heated floors, a rainfall shower system, chandelier lighting and dual shower heads. One must-have feature that will transform your new bathroom into a spa-like experience is a heated shower bench.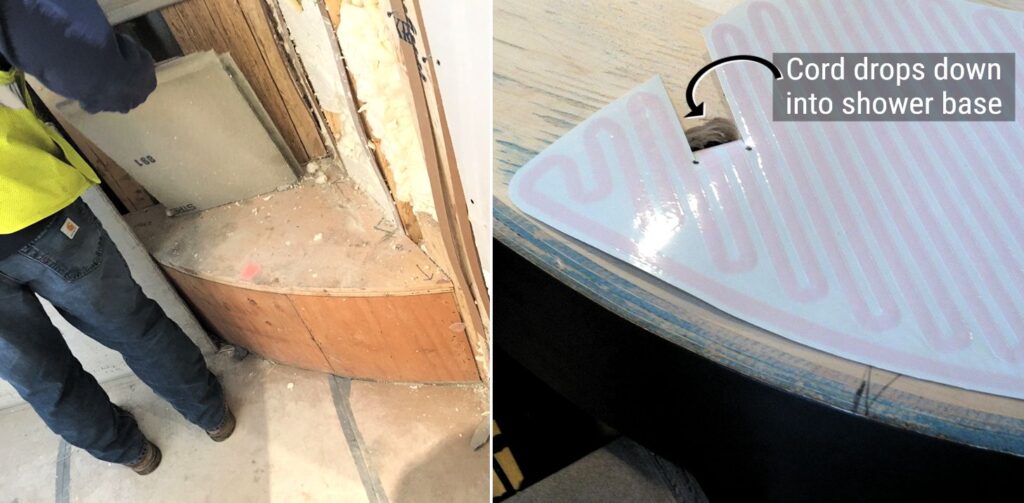 This video shows our compressed mat being installed on a new countertop, the same process used for heating new shower benches.
This warm addition is easy to include in your renovation project and will be something you can appreciate every day. Simply tell your renovator to add FeelsWarm under your new shower bench and we will match the exact style and shape of the area you would like heated. Say goodbye to cold stone and hello to luxurious warmth!
Low-voltage heating system that takes a slow warming approach
Can be left on 24/7 at a minimal cost
Utilize our thermal controller for temperature settings
Connect your outlet to a light switch for easy on/off access
Removes the chill of your shower bench, bathtub surround or vanity
FeelsWarm shower bench warmers utilize the same technology as our countertop warmers. Using our compressed heating mat, your installer will lay the ultra-thin mat onto the shower bench base, drilling a small hole into the wood for the cord to drop down. It is important that the heating elements and controller remain free from water exposure. The mat will then plug into an outlet located outside of the shower area and can remain on at all times.
HEATED VANITIES
For a Warmer Morning Routine
If you have a make-up vanity or dressing table that is made of stone (like granite or marble), chances are that your arms get cold when you sit there every morning. Luckily, our easy-to-install warmers adhere under the area that you lean on, taking away that cold chill and leaving you with a luxurious getting-ready experience.
Simply pull out your drawer and apply the warmer under stone area where your arms frequently touch. Or, if you are doing a bathroom renovation, you can adhere the mat to the stone before it gets laid onto the cabinetry. The mat plugs into a standard outlet so no need for special wiring.