WHO WE ARE
MANUFACTURING TECHNOLOGY OF HEATED COUNTERTOPS
DG Innovations designs, manufactures, and markets FeelsWarm® countertop heaters in both standard and custom shapes and sizes. Under our patented technology of utilizing patterned thin resistive heaters, we offer the only safe option for heating countertops and overhangs using a safe, low-voltage power source.
We produce products for consumers to install themselves on their existing countertops. We also work with contractors, builders, designers, fabricators and remodelers for new construction or renovations.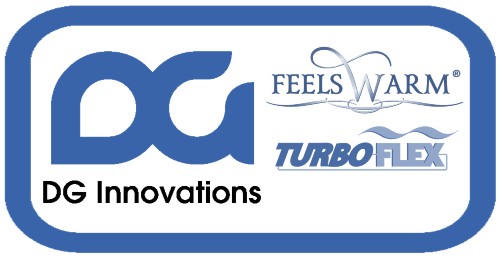 ABOUT OUR PRODUCT
FEELSWARM COUNTERTOP WARMERS
| | |
| --- | --- |
| Ultra-Thin: Only 1/32 Inch Thick | Low Voltage: Utilizes 12-24 Volts for Complete Safety |
| Fast Delivery: Designed & Shipped In 2-3 Weeks | Versatile: Works with All Stone Surfaces |
| Reliable Technology for Years of Enjoyment | Heats 20° Above Room Temperature |
| Custom Heated Areas Within a Countertop Design | Cost Effective: Heats Only Where You Lean |
| Temperature Adjustment Controller Available | Unique: Only Product of Its Kind |
INTERESTED IN WARMING YOUR STONE COUNTERTOP?

Remove the cold feel of your island or desk with a FeelsWarm countertop warmer.