FeelsWarm Outdoor Collection
BRINGING LUXURY TO YOUR BACKYARD OASIS
The FeelsWarm Outdoor Collection provides a solution for home & business owners who want to enhance the comfort of their luxurious outdoor living spaces by removing the cold feel of stone countertops.
Perfect for outdoor kitchens, bars, pool areas & patio dining, our Outdoor Collection is designed to accommodate wide ambient temperature ranges, taking away the initial cold shock of stone countertops located outside. Adding this warmth brings elegance and luxury to your space, especially on evenings when you are resting your bare arms on a cold surface. 
We will work with you to customize a solution to fit the exact shape and size of your new outdoor countertop.
All outdoor heating applications must be 100% encased to ensure all forms of precipitation do not gain access to the heater. Typically, this involves the cabinetry having a full substrate surface completely under the stone top. The heater will then be placed onto the substrate and the stone will sit directly on top of the heater, compressing the heater in all areas. The perimeter of the stone must be designed to prevent moisture from directly entering the heater through the edges.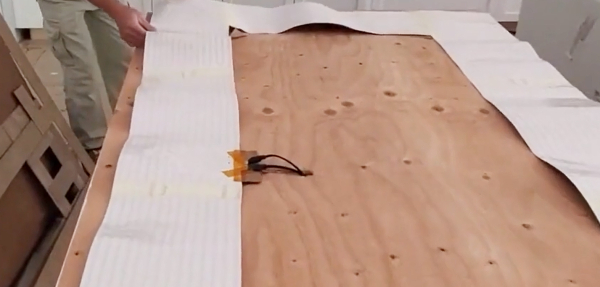 FeelsWarm heaters are designed to utilize 24 volts of power and will deliver up to 45°F of incremental warmth so that the countertops can be comfortable for use on days as low as 50°F. Contact FeelsWarm if you have countertop applications that require warming in below freezing applications or if snow/ice removal is desired.
As opposed to FeelsWarm's indoor countertop warmers, you will be provided with a sensing system to control the temperature of the countertop due to the varied outdoor environment the counter is exposed to. A water-resistant controller is also provided in conjunction with every heating mat in the Outdoor Collection.