Gather up kitchen countertop ideas now so you can gather family and friends in your welcoming kitchen later. Explore the possibilities for your beautiful new kitchen remodel.
What will suit your style and needs? Consider what matters for you to create a kitchen designed for your maximum enjoyment and function. Among the diverse countertop materials, you'll find a perfect fit.
Get design inspiration for your next kitchen renovation and make your dream kitchen come alive with warmth! Contact us at FeelsWarm to learn how to warm up your new stone countertops.
1. Natural Stone is a Natural Selection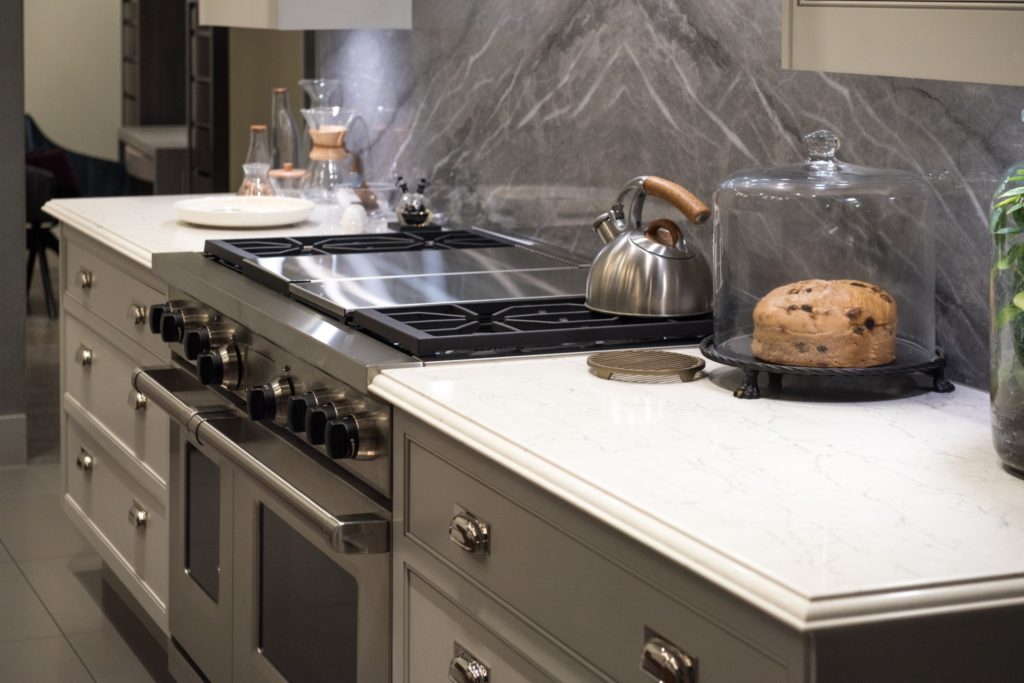 Natural stone kitchen countertops have maintained their status over time. People love the beauty from classics like granite and marble to rarer choices like travertine and slate!
These countertop materials are generally higher maintenance than fabricated counterparts. However, they offer organic beauty that manufacturing cannot quite mimic. Consider the pros and cons to determine what strikes your fancy.
2. Marvel Over Marble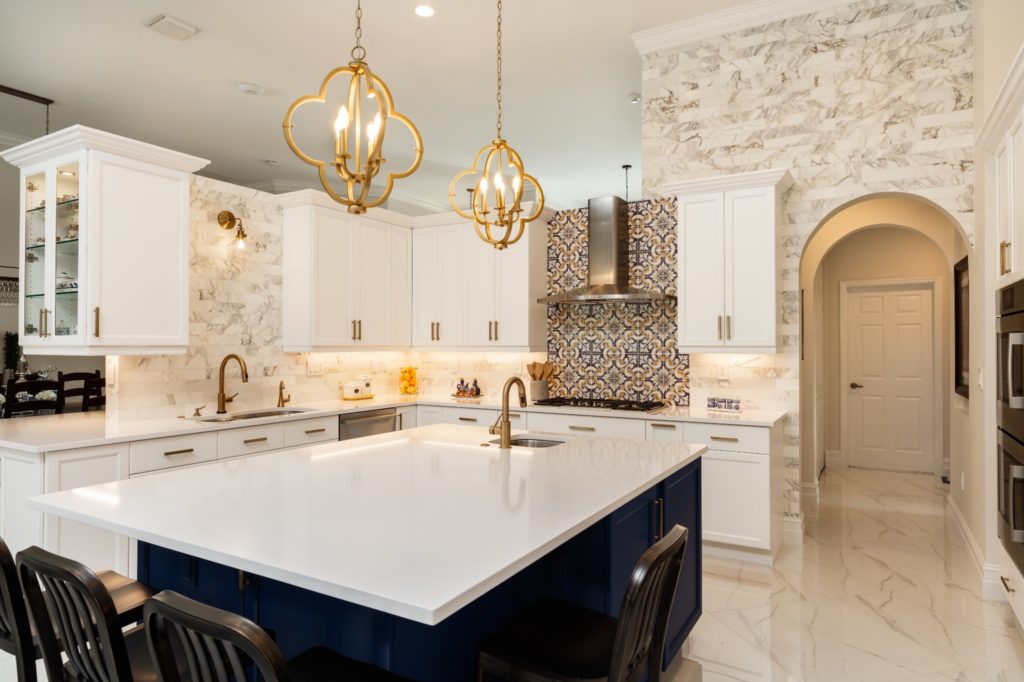 Marble is the stuff of statues and can be like fine art in your kitchen too! Nothing matches marble for its look and beauty. Attempts to replicate the veining in marble may come close, but the real thing is unmatchable.
Marble is vulnerable. It's porous and soft so that it can be stained and scratched. 
Marble is costly upfront and requires a commitment to maintaining it. Marble needs annual sealing. With this stone, clean spills quickly and faithfully.
Ah, but that fantastic look and style! As the ancients surrounded by marble said, know thyself. You may know that it'll be worth it to you to pay the higher prices in installation and care.
Choose among light creams and whites to gray or even black. Complement the walls and countertops with different marbles, and even add a wooden backsplash for another natural contrast. Installing marble will be a beautiful kitchen countertop idea that may even increase your property value.
3. Go Gaga For Granite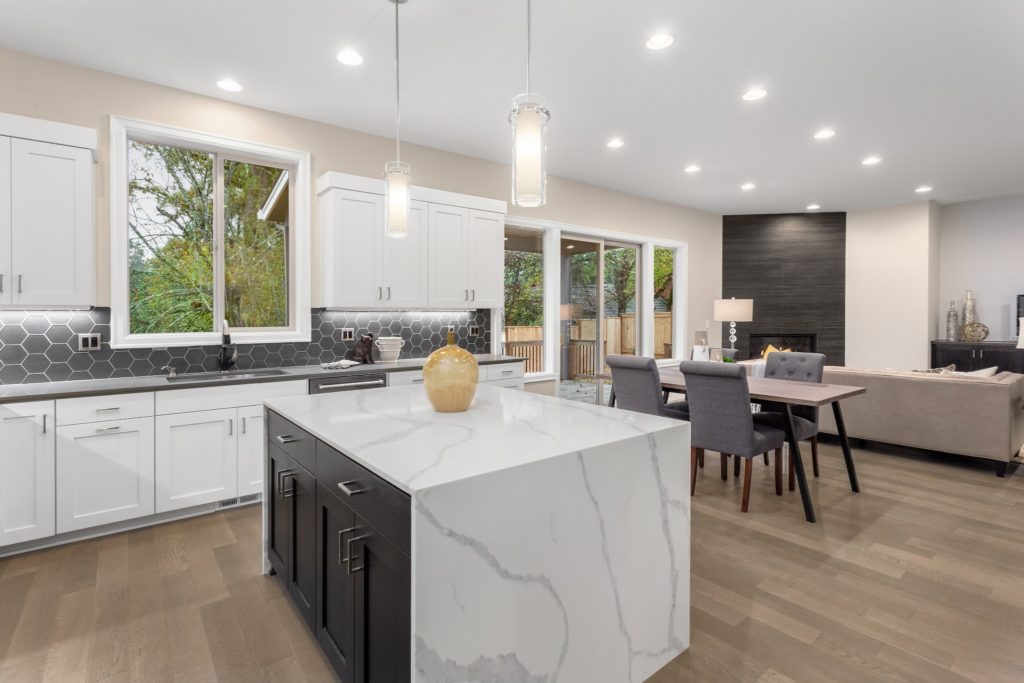 Granite also needs to be sealed, though less often than other natural stone countertops. Granite is available in slabs, modular, or even tile.
This luxury option is the most durable among the natural stone choices. Elegant and robust, scratch-resistant granite comes in distinctive patterns and colors. As shown, you can combine a granite island with a solid surface sink surround and tile backsplash to a lovely effect.
4. Quartzite or Quartz, Either Might Be Right!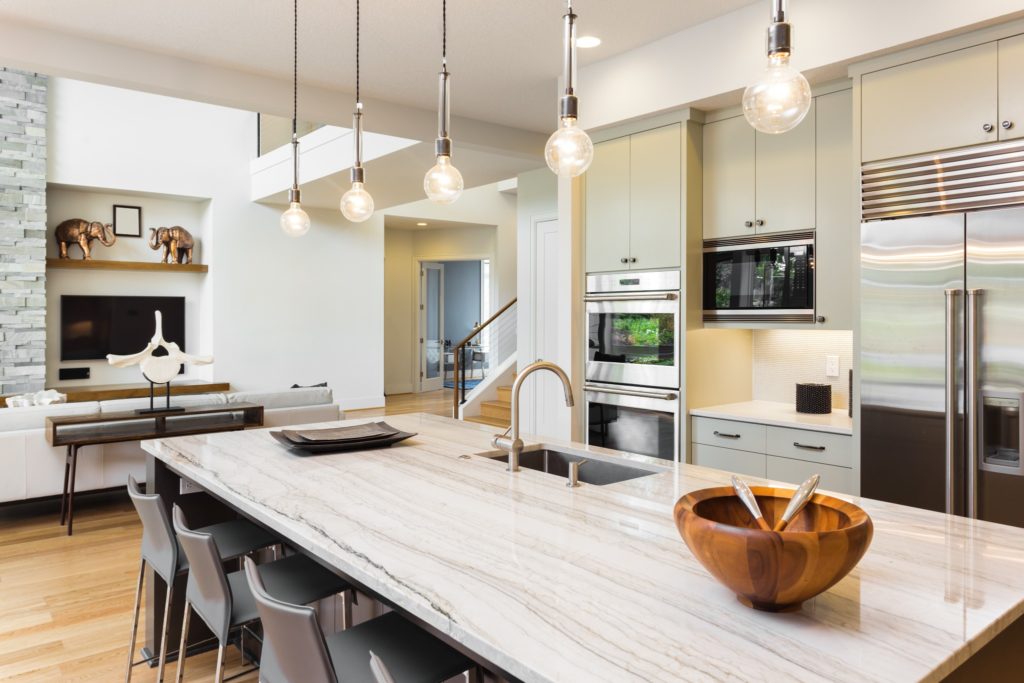 Quartzite is also a natural stone countertop. Like marble and granite, it requires annual sealing, but it's not as sensitive as marble to scratches or stains. 
People who like the look of marble but need a more durable surface choose quartzite. See how attractive the gray veining is in this picture? Aesthetically like marble and more durable than granite, quartzite is a win between beauty and function.
Quartzite is easy to clean and heat resistant. If your kitchen enjoys plenty of sunshine, quartzite withstands those UV rays well. These delicate features do come for a higher price and require skilled professionals to design and install.
The common mineral quartz is engineered into nonporous quartz countertops, so they won't need sealing. Requiring less maintenance and being less expensive, quartz has become a popular choice.
This factory-made stone countertop has staying power, so turn to quartz if you're looking for a long-lasting solution. To a degree, you can make it look like its natural stone counterparts. Or you can go for colors not found in nature.
5. Sold on Solid Surface Countertops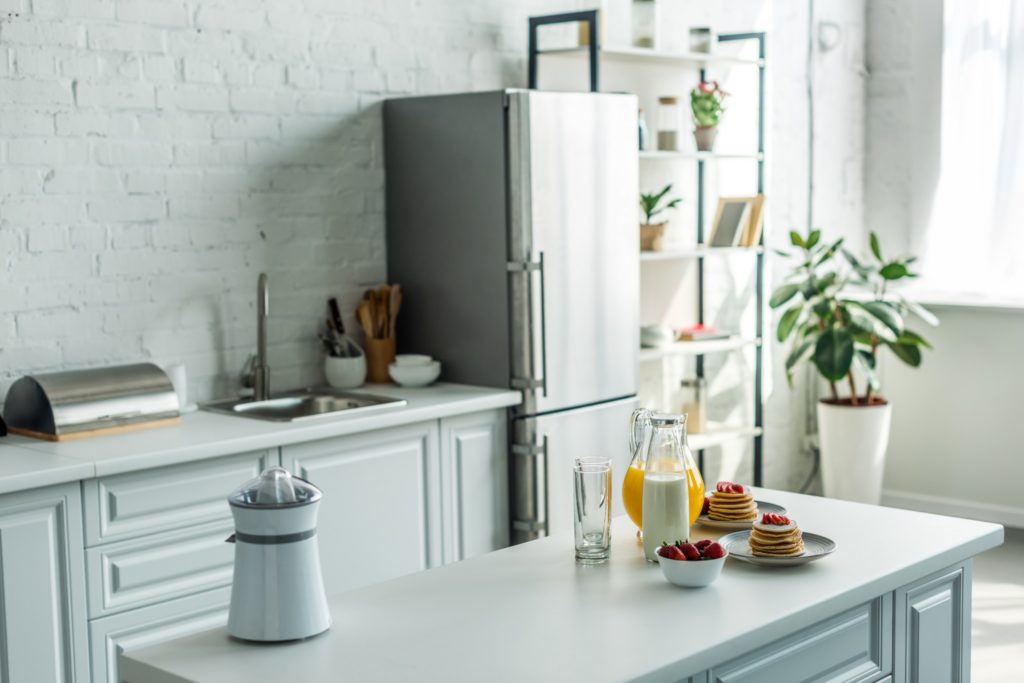 Solid surface is another manufactured solution. Known by brand names like Corian and Formica, concrete surfaces are synthetic countertops.
They boast lower price tags and robust durability compared to natural stone products. Check out this Leanne For Interiors vision in white which features a solid surface.
This acrylic finish is another nonporous option, so you won't have to seal it repeatedly. It also resists trapping bacteria and stains. Professionals can quickly repair scratches or even more severe damages.
Make a unified scheme by matching countertops with walls and cabinets. This kitchen countertop idea is a vision of harmony among all the elements. The color flexibility of the solid surface makes this calm, welcoming space possible.
6. Select Style That's Set in Concrete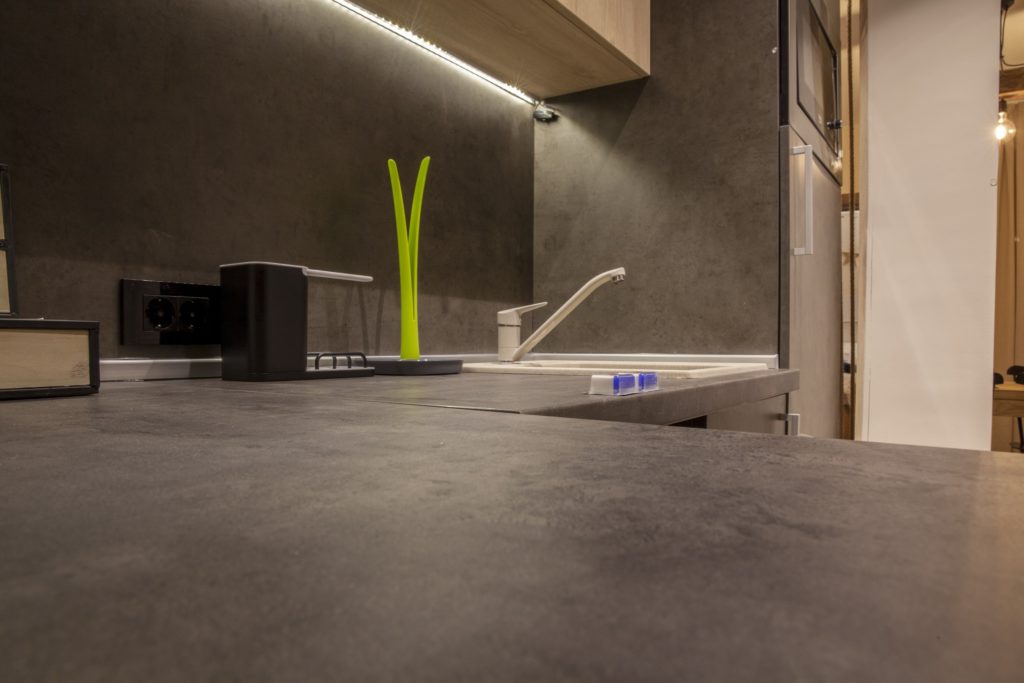 Concrete countertops are trending. This is a tough surface that can flexibly blend well into any kitchen style whether rustic or modern.
These kitchen counters can be the normal concrete gray you might expect. Or in the hands of a skilled contractor, they can be stained a color.
Choose smooth or go for a stylized look with imprinted designs. Each one is a unique countertop that can even include embedded natural elements like river rocks or shells.
Like natural stone, concrete countertops require consistent care with waxing and sealing. Spills must be cleaned quickly to prevent stains.
Feature Heated Countertops in Your Remodel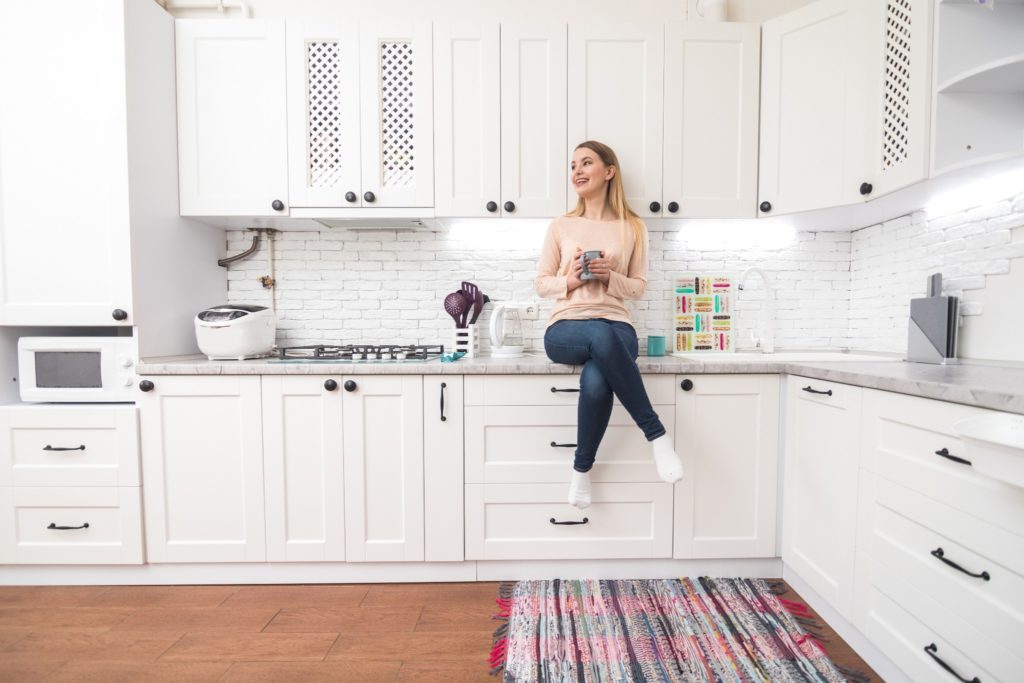 As you collect ideas and images for your upcoming remodel, consider adding a FeelsWarm countertop warmer during the installation.
What if you've recently remodeled and didn't know about heated countertops before installation? Good news, it's not too late!
The thin warmers can be custom-sized and easily added to any stone countertop. This is a peel-and-stick, DIY project that you can do. The cold of your stone countertop will be fleeting after you add this easy-to-install heating!
But if you are in the dreaming phase of your future remodel, indulge in these kitchen countertop ideas. With FeelsWarm added during installation, this pictured kitchen island takes on the touch of warmth.
Imagine your guests on those comfy bar stools leaning on the counter. They expect a chill and instead get a thrill: warm comfort!
Kitchens are the heart of homes. Make yours warm and luxurious with countertop heating. Your family and friends will enjoy this special room you're designing. 
Whether you choose a natural or fabricated stone countertop, keep it from being cold with a FeelsWarm countertop warmer. While you can add them as a retrofit later, go ahead and place them as part of your remodel now.
Contact us at FeelsWarm to order your countertop warmer before you begin your kitchen renovation. Unique countertops that are warm to the touch will be the star of your new kitchen.