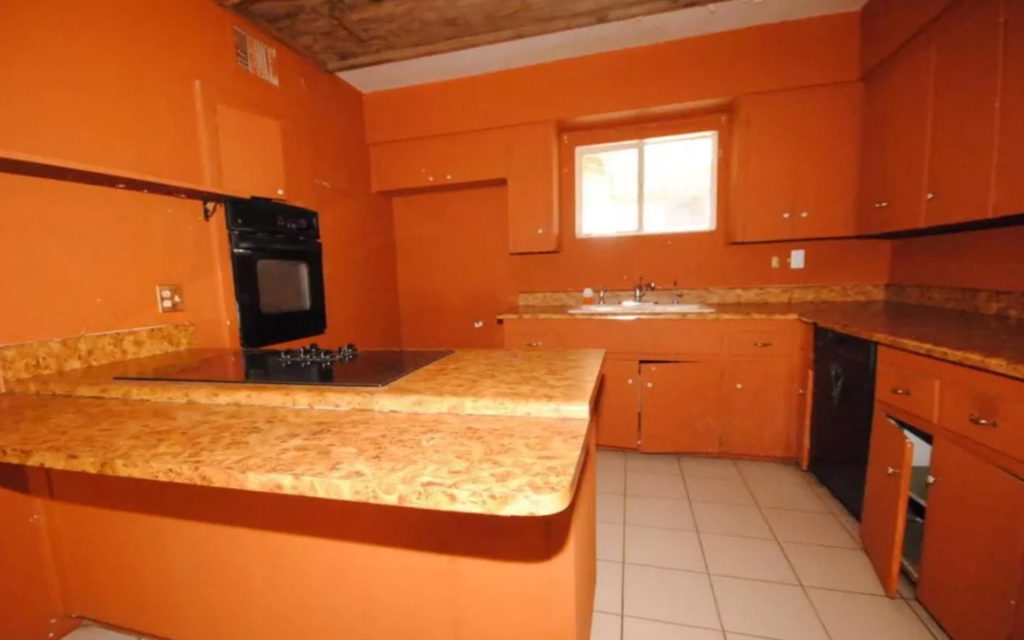 Everyone is always sharing the top designs and photos to inspire the kitchen of your dreams. In this post, we thought we would share the worst kitchen designs to inspire you what not to include in your future home.
Behold! The all-time strangest kitchens.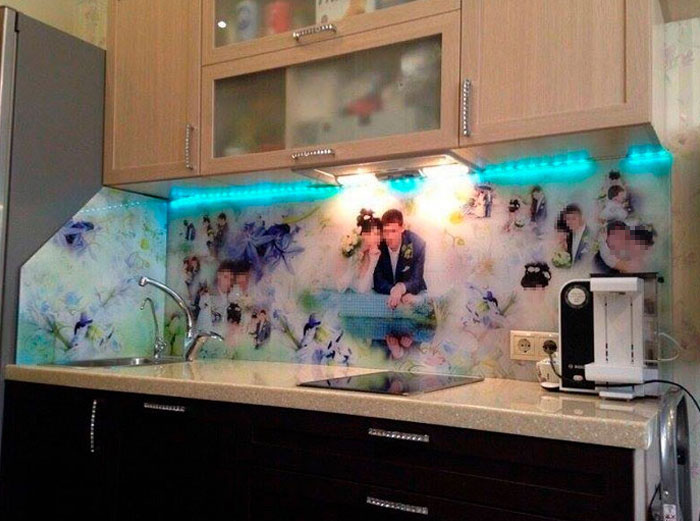 They say your wedding day goes by in the blink of an eye but a kitchen backsplash displaying your wedding photos will certainly help you remember it every day.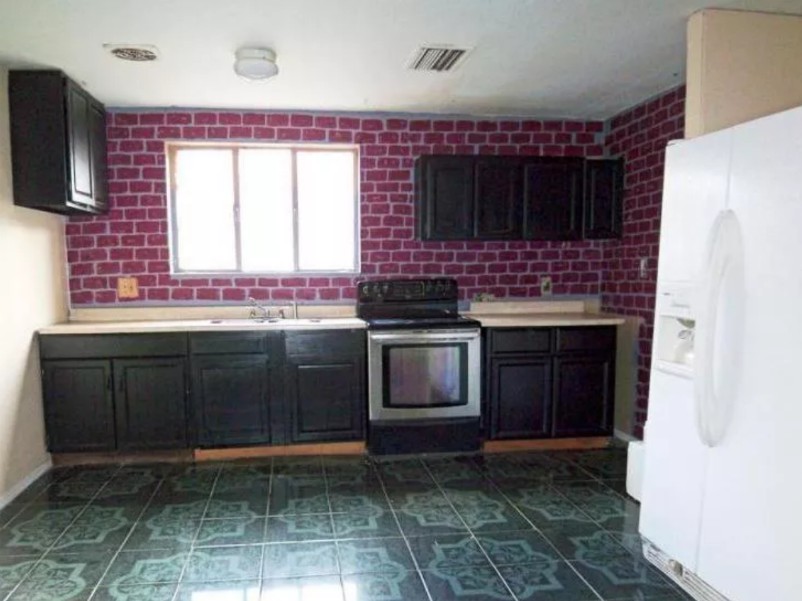 This kitchen is plagued with multiple visual problems. The red wall is not only fake brick and not even proper fake brick (i.e., architectural veneer stone). It's a paint job or wallpaper. And don't even get us started on the green- tiled floor.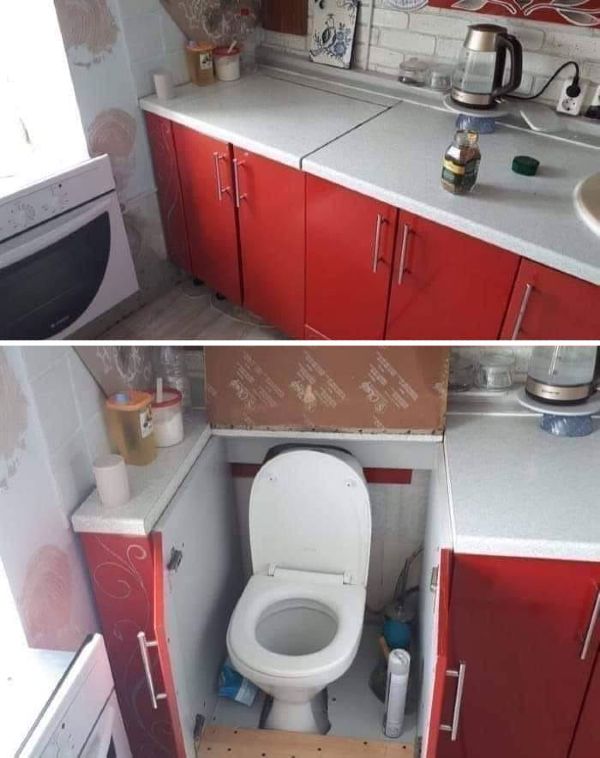 A built-in toilet in the kitchen? There can't be a good explanation for this one.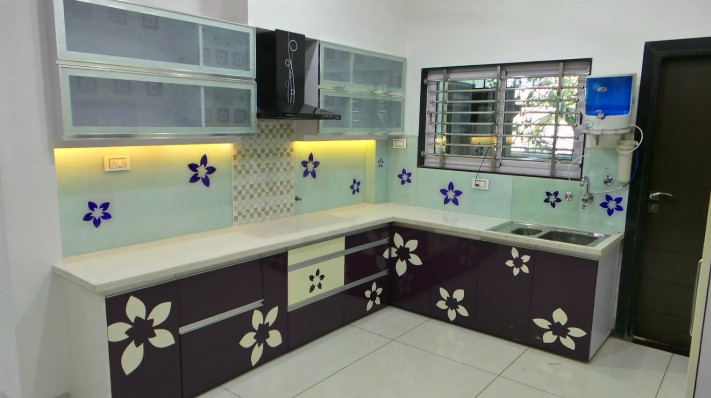 We understand wall decals and we get that a child's room can enjoy some stickered-up surfaces; but this is neither of those. Not to mention the aqua and blue color selection.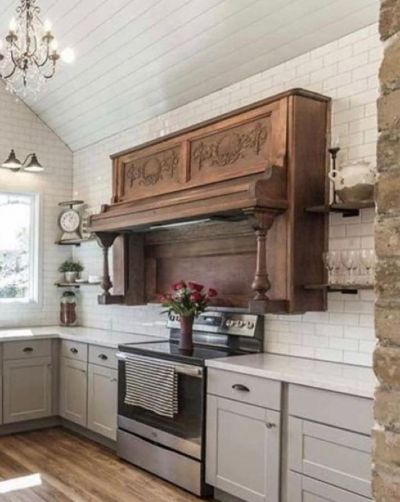 Can't help but wonder if the owner of this unique oven range ever fears that the piano will come crashing down.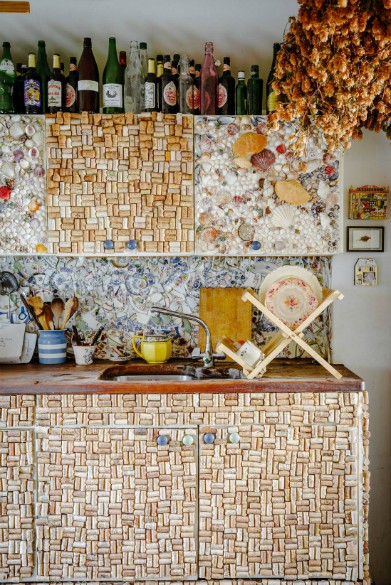 Stylist Maude Smith has decorated her kitchen cupboards with corks, shells and broken china. While we appreciate the artistic creativity behind this look, there is just too much for the eye to take in.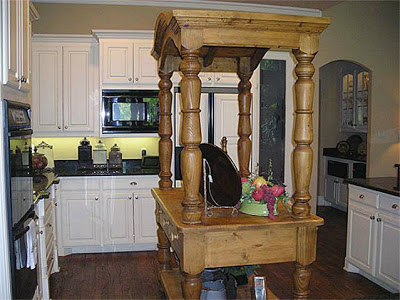 Source
Another interesting use of reclaimed furniture in the kitchen. Would you rather have this or no island at all?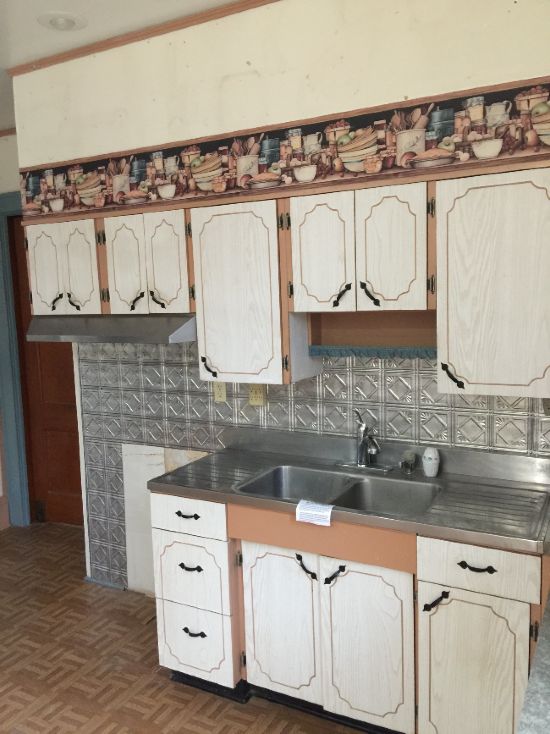 Really loving the apple pie wall paper, plywood door cabinets and the stick-on faux tin backsplash. Needless to say, the new owner of this kitchen decided it was a complete gut job.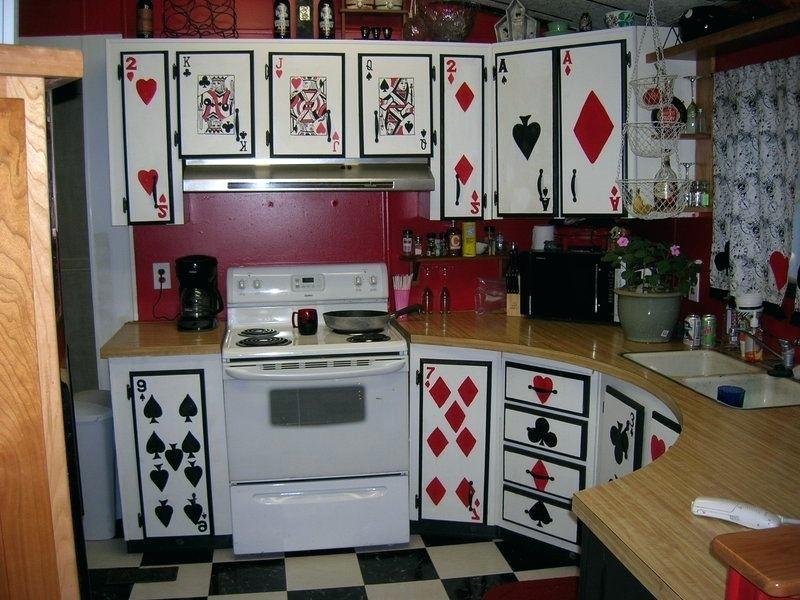 We have to applaud the homeowner's creativity with this Alice and Wonderland inspired kitchen. It's not the worst kitchen we've ever seen, but it's certainly not the greatest.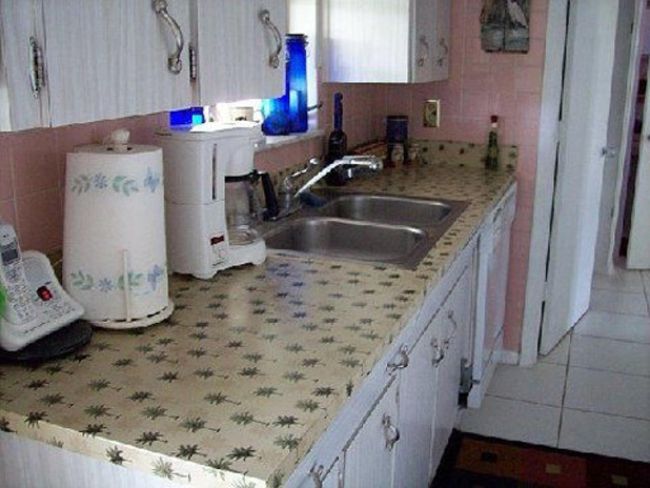 While wallpaper for your countertop may be creative, it is hard to agree that this was the most aesthetically-pleasing choice.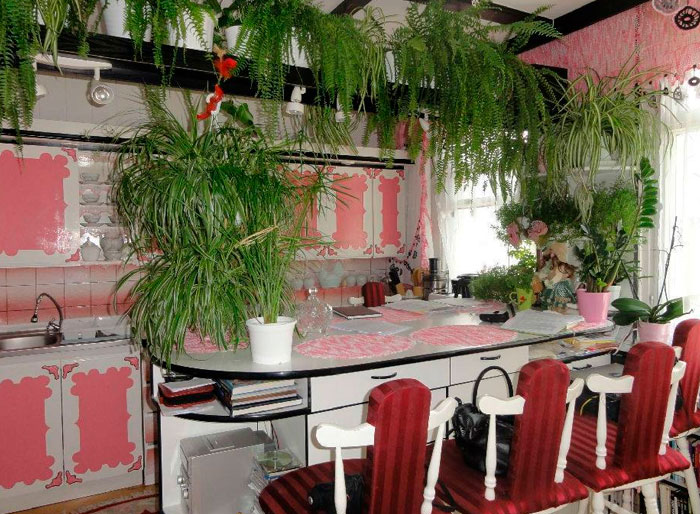 Pink cabinets, red chairs and a small splash of greenery makes for the perfect aesthetic!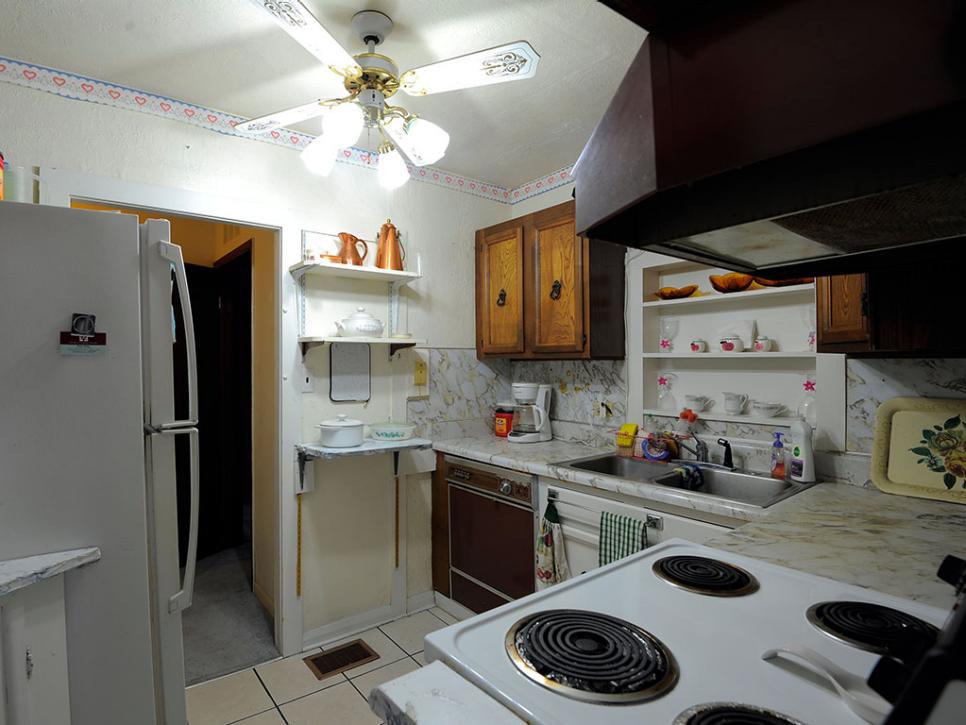 Lots going on in this funky kitchen but we especially enjoy the shelving that blocks the oven and cupboard access. Luckily, this kitchen was recently renovated to a much more spacious feel!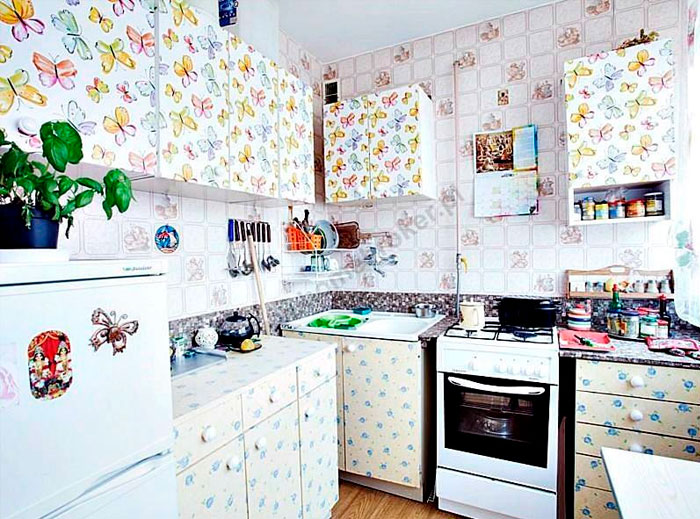 There is a chance this kitchen was designed by a child but it certainly screams happiness!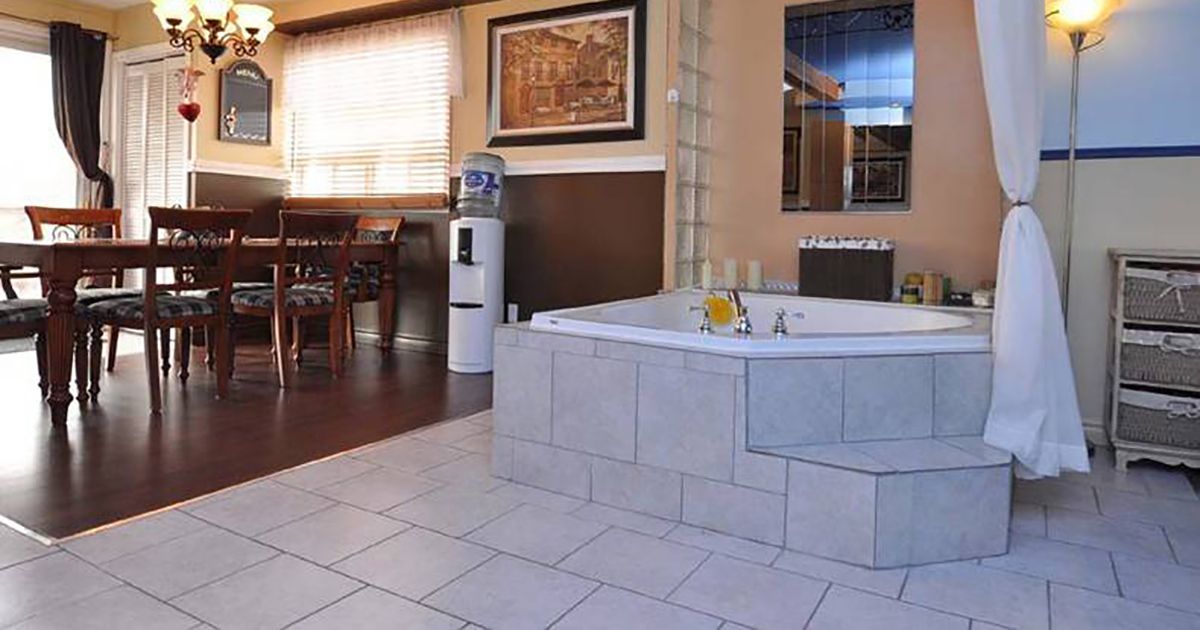 Last but not least, a kitchen that opens up to your bathtub. Nothing like a drink by the pool…or a meal in the jacuzzi? Well, if you like to relax while you eat, I guess this is the perfect way to do it.
Which of these would you say is the worst kitchen? Do you have an even worse example? Share your photos with us on Facebook!