The housing market has seen record-breaking numbers this past year, with more people seeking homes to purchase than ever before. While the trend of buying new homes continues to remain high, so does the motivation to renovate rooms within the home.
The number one room that renovators seek to transform? The kitchen. "The median investment on major remodels of large kitchens increased 14% in 2020 compared to recent years, growing to $40,000," reports Fast Company. From new cabinets to new appliances, a kitchen renovation involves many different steps and incorporates all the recent trends to make the space feel new.
One of the major trends that took off this year and will continue to rise as the season gets colder is heated countertops. Yes, believe it or not, heated countertops is considered to be a top luxury item that is being added to new homes and even to current countertops.
Heated Countertops: The Trend You Can Expect to Take Off This Winter 2021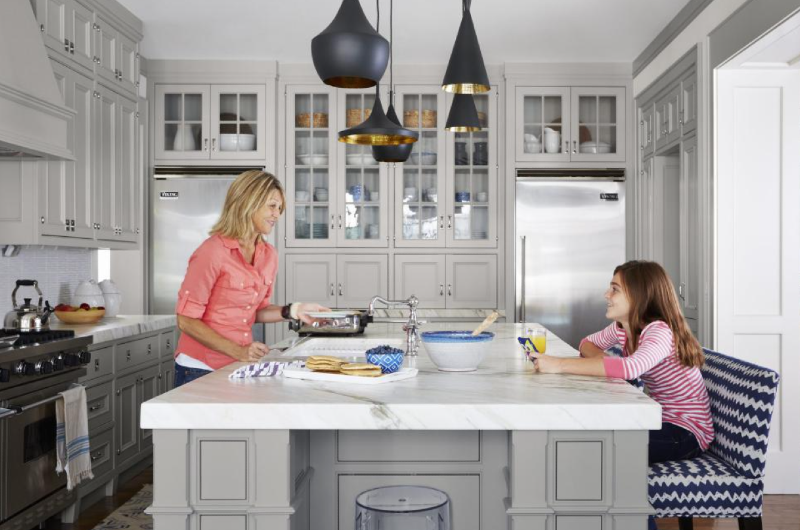 Granite, quartz, marble and any other type of stone countertops has a tendency to feel cold to the touch, compared to your wooden table for example. This cold feel, specifically in the fall and winter months, can be off putting and may even cause you to subconsciously avoid sitting at your kitchen island.
That is why so many homeowners are choosing to warm the area of their countertop where they most often rest their arms. The process is easy and doesn't involve any special electrical wiring. You simply plug the product into a standard outlet inside your cabinetry and can enjoy the comfortable warmth on your hands, wrists and arms.
Installing Heated Countertops on an Existing Kitchen Island

If you already have your countertop installed and want to make it heated, you simply need to measure the area of the countertop that is exposed underneath, otherwise known as the overhang. Once you've determined the area that you are going to apply heat, you can order a stick-on countertop warmer, one that is specifically designed to safely heat stone countertops. You will then peel and stick the warmer under your overhang and plug the mat into your outlet. The mat is ultra-thin so you will not have to worry about seeing it from the side.
Including Heated Countertops in a New Build or Renovation

If you are updating your kitchen countertops or are building a new home, including heated countertops in your initial plans is the easiest way get the product installed. You can decide how much of your new countertop area that you will want heated (most people warm the first 10″-15″) and then order a countertop warmer that will match your space. Your countertop installer will simply adhere the mat to the stone before the countertop gets placed down onto the cabinetry. No need to worry about the mat being "sandwiched" in between the supports.
Why Heated Countertops?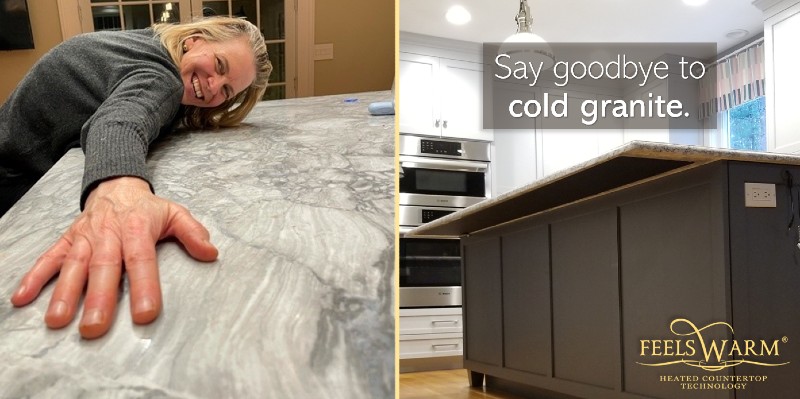 You may be asking yourself, why has heated countertops become a popular trend? While it may seem like a lavish addition, others have praised the concept for making their homes more comfortable and enjoyable. These seven reasons are among the many benefits to owning heated countertops:
Your electric bill won't take a hit.
You only need to heat the areas that you frequently feel.
It's a low-voltage system and safe for stone.
Your food & coffee can stay warmer for longer.
It's a practically invisible, yet very noticeable upgrade.
It helps those with arthritis, fibromyalgia & joint pain.
It makes working from your island more comfortable.
Are you ready to finally enjoy your cold granite countertop this season? Get your custom quote today and see why so many people are happy that this trend is here to stay.