At an average of $50 per square foot, granite is certainly an expensive material for kitchen countertops. For good reasons, homeowners continue to select this elegant surface for its durability and overall beautiful appeal.  
However, there is one common criticism from owners of granite countertops and that is how cold the surface feels to lean on. While some may like the coldness, many do not appreciate how unpleasant granite feels against the skin. Luckily, there is a product that fixes this problem, one that does not involve hiring outside help.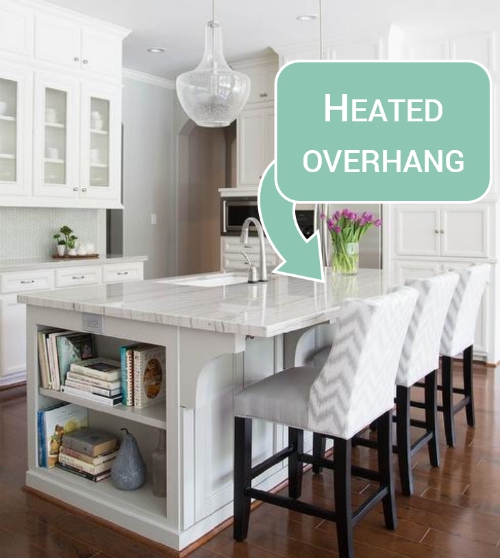 Stick-on heating mats for granite and stone countertops are becoming wildly popular, especially during the cold winter months. There is no other product out there that can properly heat up your countertop while requiring very little work to do so.
The heating mats, which are designed to fit the exact shape and size of every unique countertop, use a simple peel-and-stick method underneath the counter's overhanging area where guests most commonly sit. Also available in standard rectangular sizes for desks and straight edges, the mats plug into a standard outlet commonly located inside the cabinetry. 
"We always use it when we have guests over in the wintertime and people can't believe how nice it is," says Melva G. from Nicollet, MN. "They don't want to sit anywhere else because it is so warm on their arms."

Practically invisible and very easy to install, it's no wonder why homeowners are loving this improvement of their luxurious countertops. With a free-trial available, why not give it a try on your countertop?