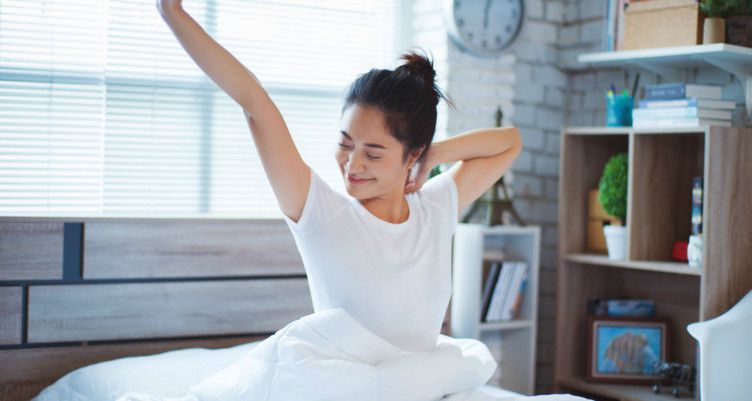 As the cold weather takes over, so do the difficult mornings of getting out of bed. Whether or not you consider yourself a "morning person", starting off your day on the right foot can sometimes be challenging.
Here are 10 products that are sure to make your mornings a little better:
Rainfall Shower Head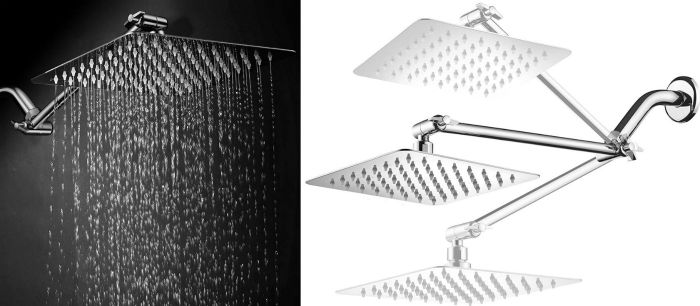 Giving you a new shower feel, you will look forward to stepping under a warm rainfall with perfect water pressure every morning.
Weekly Hanger Markers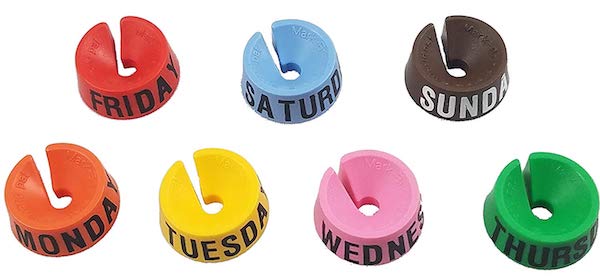 Take the stress out of the morning by having your outfits already planned out for the week. Just use these cute markers to organize your looks for the week ahead.
Wake-Up Light Alarm Clock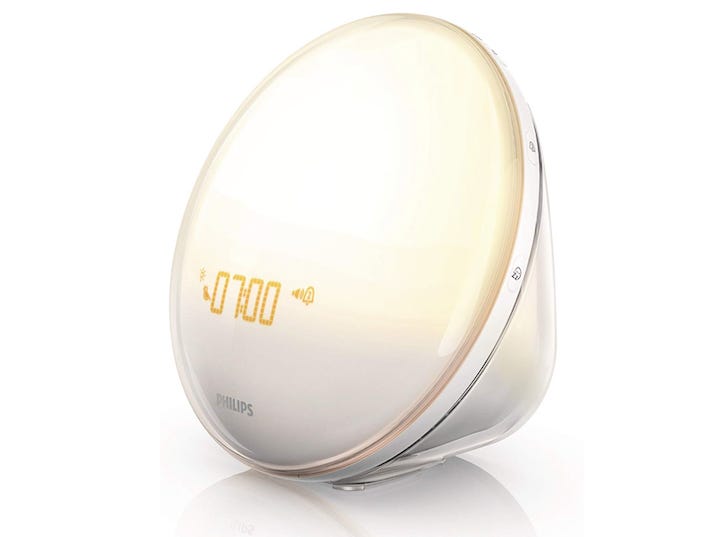 This calming and innovative clock gradually brightens, mimicking the rising sun and providing a more natural way to start your morning.
Programmable Coffee Maker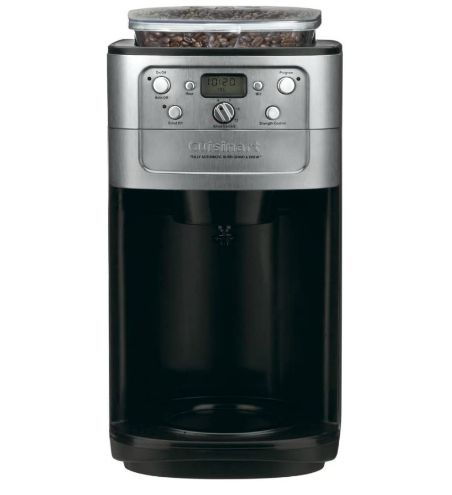 Who doesn't love to wake up to the smell of fresh coffee? Easily brew up to 12 cups of great-tasting coffee with this 24-hour fully programmable coffeemaker.
Countertop Warmer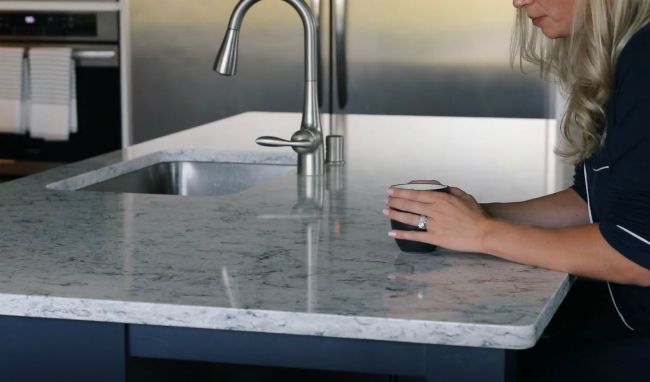 For anyone who has cold granite countertops, this thin mat goes under your overhang and warms the stone just enough to take away that cold chill when leaning on it. Now you can comfortably enjoy your morning coffee on a warm surface!
Dual Breakfast Sandwich Maker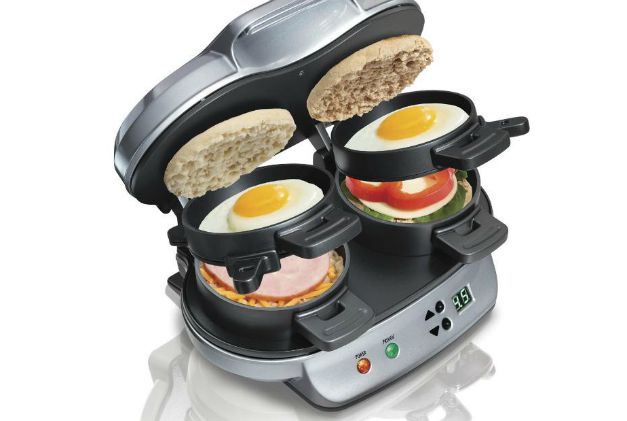 This appliance can make one or two sandwiches in about five minutes. And since it does all the cooking for you, once you've prepped the machine with your desired ingredients, you can focus on getting ready for the day.
Heated Shaving Cream Dispenser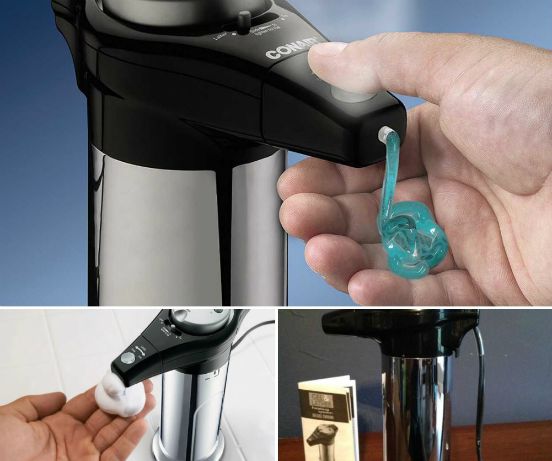 Slapping cold shaving gel or foam on your face can be a shock to the system. This neat gadget warms your chosen product in just two minutes.
Sunlight Lamp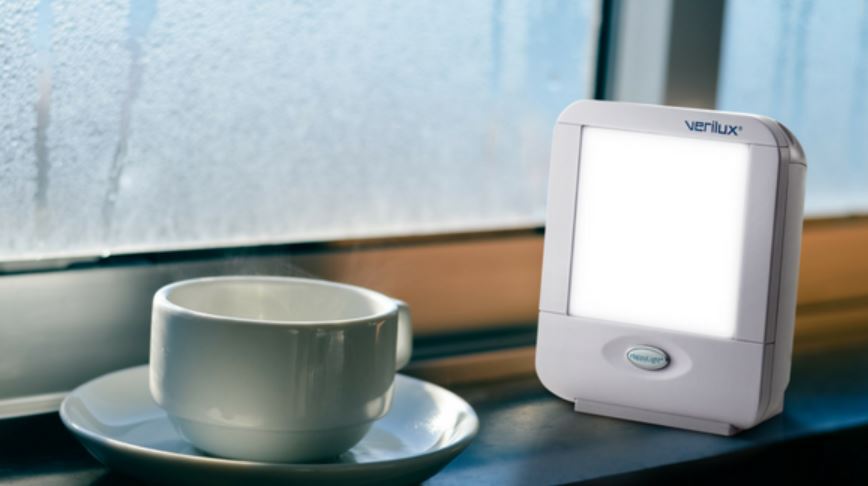 This product is great for those early morning Zoom calls when the sun isn't even up yet. It is often used by people with seasonal depression because it mimics natural sunshine.
Heated Slippers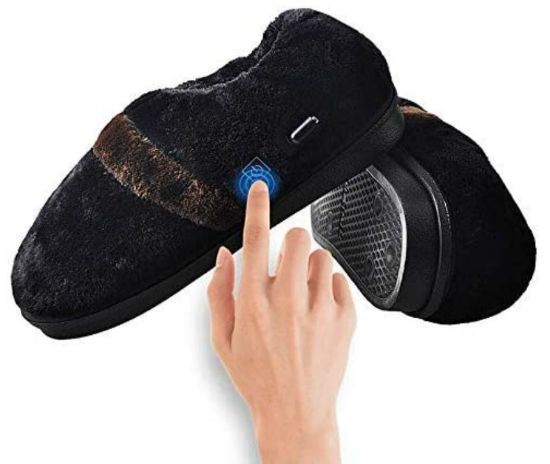 If you don't have heated floors in your bathroom, or you simply hate the feeling of cold feet, these are a life saver. You will love the comfort and warmth of these heated slippers, especially on those frigid winter mornings.
Steamer for Clothes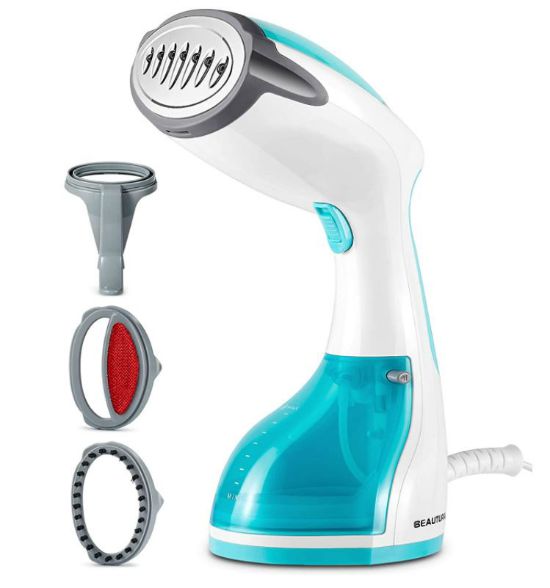 A fast and efficient way to remove wrinkles! This awesome time saver will make you feel more productive and less rushed in the morning.
This "DIY" product removes the cold feel of your stone countertop, leaving you with comfortable warmth whenever you sit at your kitchen island or peninsula. Plugging into an outlet inside your cabinetry, FeelsWarm® warming mats can be customized to fit your exact countertop shape & size
*LOW VOLTAGE: Utilizes 12-24 Volts for complete safety
*CUSTOM HEATED AREAS within a countertop design
*COST EFFECTIVE: Heats only where you commonly touch
*ACCOMODATES all corbels/support beams
*ULTRA THIN: Only 1/32 inch thick
*TEMP ADJUSTMENT controller included with heater
*FAST DELIVERY: Designed & shipped in 7-9 business days 
*VERSATILE: Works with all stone surfaces
As granite, quartz and marble continue to be the most popular surface in new homes and businesses, people are discovering just how cold these types of stones feel to the touch. The coldness can make it uncomfortable to lean on, especially when sitting at a kitchen island, desk, or peninsula.
To address this problem,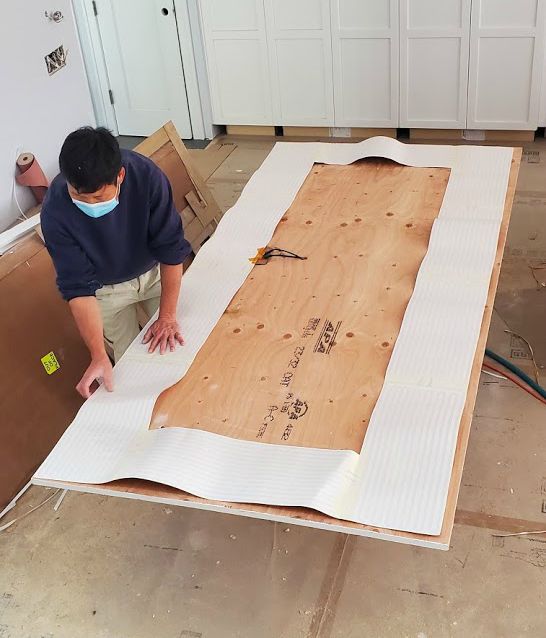 FeelsWarm created a product that warms the stone 20-25 degrees, just enough to take away the initial cold shock of cold countertops. These ultra-thin heating mats adhere under the stone and plug into a standard outlet inside the cabinetry.
The product works great for countertops and desks, but what for about tables that have no electrical power?
A homeowner in San Francisco, CA chose a massive, sleek stone table to go in their new kitchen and wanted the added luxury of a warm surface to sit at every day. Utilizing a custom FeelsWarm heating mat, Transworld Construction was confident that they could deliver exactly what the client wanted.
The heating mat is designed to warm the perimeter of the table, where people most commonly rest their arms and wrists. With the base of the table being a solid wood surface, the slim mat could be fully compressed in between the stone and substrate.
Transworld took the extra step of concaving a small cavity in the wood to accommodate for the heater's wiring. This also allowed them to direct the cords to the center of the table where the power would be run from underneath.
FeelsWarm mats are designed with an adhesive backing, making it easy for the installer to secure the heater exactly in place before laying down the stone.
These homeowners can now enjoy the comfort of a warm and inviting surface without compromising the look of their beautiful new kitchen table. Plus, the heating mat utilizes very minimal electrical power, allowing them to leave it on at all times without the extra added expense.
Watch the video above to see how Transworld Construction added heat to the client's table. This process can be also utilized on commercial applications and conference room tables.
Interested in warming your countertop or table? Click here to learn more about how it works.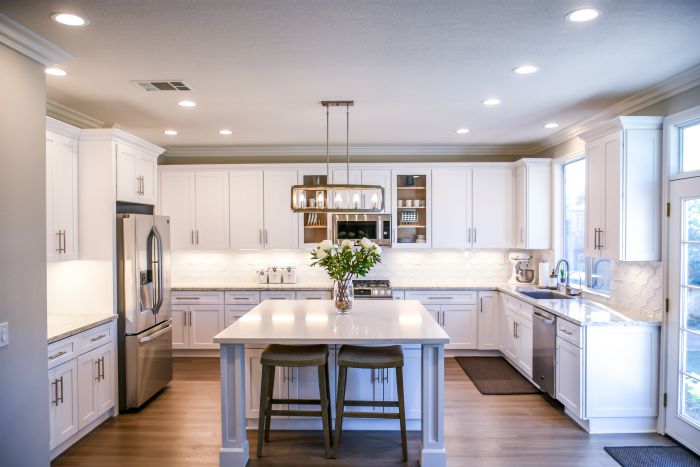 For a lot of homeowners, any talk of renovations tends to begin with the kitchen. It's a space that people tend to want to customize for their own needs and preferences, as well as a room known to increase a home's resale value, often more than any other. Still, upgrading or remodeling a kitchen is a major project (and a costly one), which means it requires a great deal of careful planning.

To help get you started, here are five things it's particularly important to think about before you renovate your kitchen.
Functionality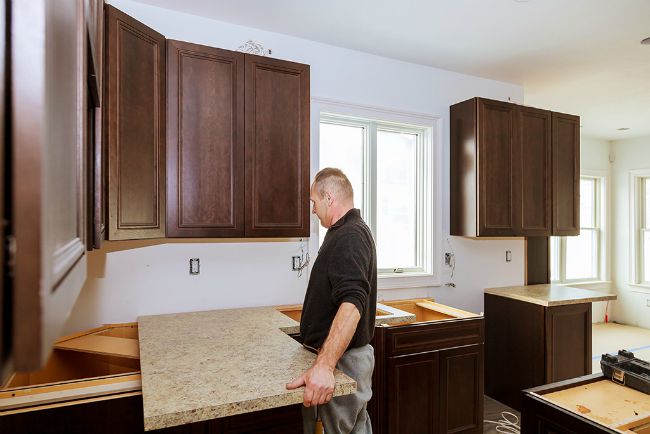 When you set about planning a kitchen renovation, you'll likely be inclined to think visually. You might wonder how to make more space, how to make appliances more attractive, what countertops you'd like, or even how to welcome in more natural light. These are all worthwhile considerations, but above all else your kitchen should be as functional as you need it to be. This means thinking about things like the following:
Appliances: When you consider appliances, don't just think about what's newest, what has the best reviews, or what looks most appealing to you. Think about how you cook, what you may have been missing in the past, and what might elevate how you use your kitchen. The right appliances can completely transform the space from a functionality standpoint.
Islands: An island is the ultimate functional addition to a kitchen. While it can also help the room to look more complete (and more interesting), installing an islandin your kitchen also comes with a range of benefits. It gives you extra storage, a place to prepare foods, and potentially a second sink and a makeshift bar counter.
Storage: Beyond the extra storage you might enjoy by way of cabinets or drawers built into an island, you should also think about how you might enhance the storage space in the kitchen as a whole. Whether this means creatively designed racks, deeper cabinets, a small pantry addition, or anything similar, it's a change that will enhance the functionality and value of the kitchen.
These are just a few examples, but they should all be toward the top of the list of things you think about. The more functional your kitchen is, the more satisfied you'll be with it (and the more value it will add).
The Latest Trends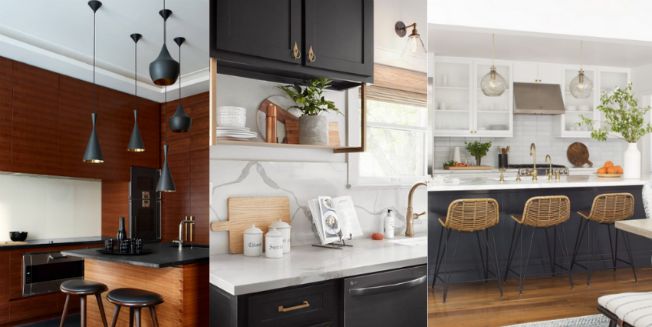 We'd actually suggest that it's important not to make your kitchen too trendy, because in doing so you'll almost guarantee that certain aspects of the design "go out of style" in time. Trends, by nature, come and go. That said, it's still a good idea to look into the latest kitchen design trends for general inspiration. Right now, these include things like exposed plate racks, heated countertops, gold hardware, and fun light fixtures, to name a few. You don't need to pay attention to all of them, but picking out a few trends and pairing them with your own ideas can make for a fresh, interesting, and lasting design.
Financing Options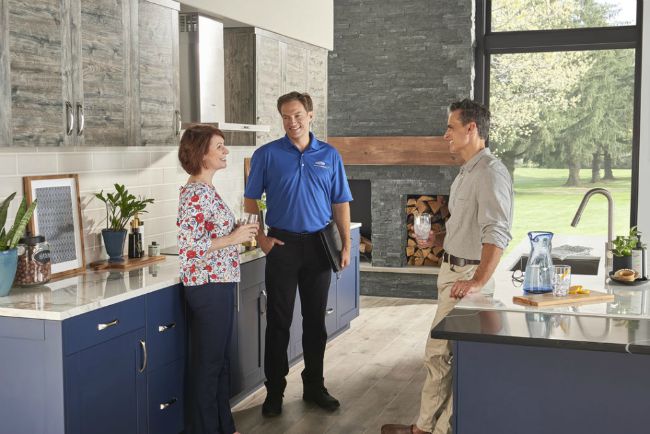 A full kitchen renovation can be quite expensive — often up to tens of thousands of dollars. And even if your contractors aren't expecting full payment up front, this sort of sum demands some advance planning. For this reason, we'd suggest looking into what options you might have to pay off the bulk of the cost in a way that doesn't directly set your bank account back. There are a few popular options of this sort to consider:
Home Improvement Loan:  Home improvement loans vary in structure, but essentially exist to serve this purpose. With such a loan — which you can obtain based on either home equity or, in some cases, credit rating — you can pay a lump sum for your renovation, and repay the lender over a period of many months. It's a good way to get rid of the main burden of the renovation cost, so long as you can handle the repayment schedule.
Credit:  If you've built up good credit, and you have a credit card with a high limit, you may be able to take care of a significant portion of the renovation cost with a simple payment. If you have multiplecards like this (or you and a spouse each have one), you may be able to spread out the cost and take care of even more of it up front. Then it's simply a matter of paying down your balance over time — though you have to be sure not to get yourself into a situation that will damage your credit rating.
High-Yield Savings:  Aside from loans and credit, a high-yield savings account can also be an interesting way to handle a renovation cost. You can use a high-yield savings calculatorto work out your potential savings based on the exact numbers and timelines online. However, the general idea is this: You deposit a sum into an account, agree to leave it for an exact period of time, and then withdraw it with significantly more interest than you'd get in an ordinary account. This means that if you put a sum of money away now for the length of time the renovation will take, you can withdraw an inflated sum when the project is done, helping to offset some of the costs.
Timeframe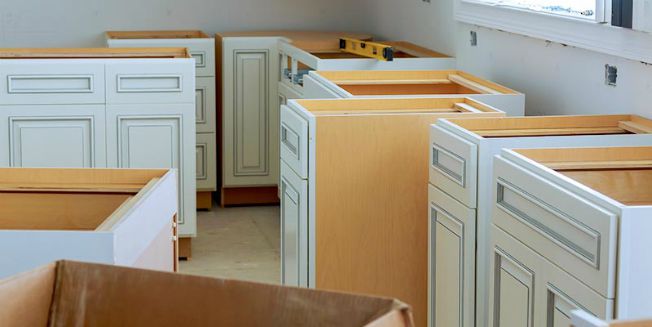 We just alluded to considering the timeline of a project with regard to savings arrangements. But in a more general sense, it's also a good idea to get a feel for just how long a renovation like this might take. Some simpler projects (such as if you're just replacing appliances or countertops) can be fairly efficient. But a more extensive remodeling of your kitchen might disrupt your home for an extended time. That's not reason not to do it, but you'll be happiest with the project if you know what you're getting into when it comes to timeframe.
Professional Assistance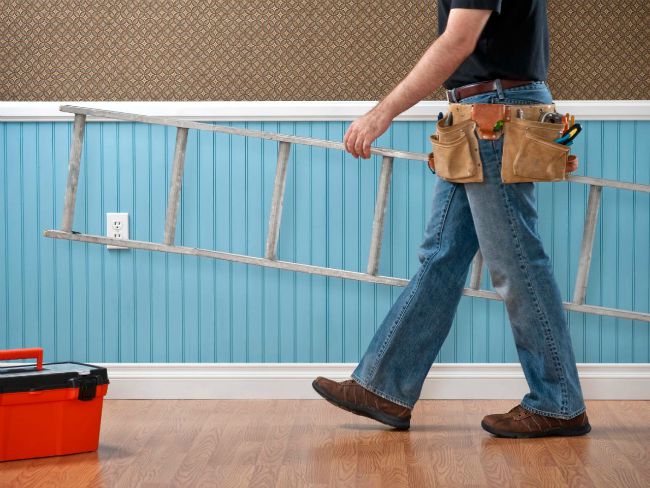 Finally, you should also consider the idea of professional assistance — not with construction (for which you're presumably already planning to rely on professionals), but with design. Even if you feel like you have a stylish eye, and you're confident you can pull off the project, there can be benefits to hiring an interior designer.

For one thing, a designer can help you save money on a renovation. People in this position tend to pay discounted prices for materials, and can also help you avoid expensive mistakes you might unwittingly make on your own. Additionally, a professional eye might simply spot something you don't. Even if you have impeccable taste, a clear idea of what you want, and a good feel for your space, people in this role are professionals for a reason. An interior designer will make it all the more likely that you end up with the dream kitchen you envision.
Written for the exclusive use of feelswarm.com
By Alice Ray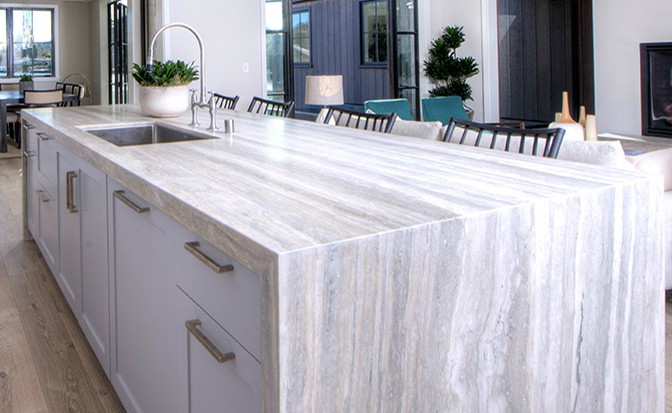 Selling countertop upgrades is one of the best ways to increase revenue in the fabrication industry. There are hundreds of custom options and add-ons to include in the project, many of which can significantly benefit you, the fabricator.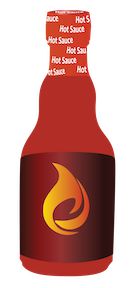 Hot Sauce is a countertop selling software that provides your employees and customers with all available add-ons and upgrades for their countertop project, specifically ones that are not often thought of when designing.
"Upgrades are the highly profitable parts of most fabricators' businesses," says Kevin Yeh, Vice President of Sales for Hot Sauce. "Sure, the car dealership makes money on the car, but where they really make a lot of money is on the heated steering wheel, leather interior, sunroof, upgraded audio package and the weather protective floor liners."
Hot Sauce software is accessible to all customer-facing employees, both in the shop and at the installation location.
Web-Based: People who are inside the company who are traditionally seen as salespeople can access all the upgrades in one digital location.
Mobile-App Based: Those who are not typically seen as salespeople, such as the field measurers and installers, are also able to participate in the sales process by having the software available on their tablet or laptop.
"We never want our customers to experience that buyer's remorse feeling, where they wish they would have known about something before it's too late," says Yeh. "Making sure the customer is aware of every customizable option is very valuable and beneficial for everyone involved."
Design-Focused Upgrades in the Showroom:
Features that you can feel and see in person are the most effective add-on upgrades when selling directly to the customer in the showroom. Some of the most common upgrades include the chip minimizer, heated counters, enhanced seam, waterfall edge, mitered edges or any design trend that is most popular for the season.
Function-Focused Upgrades Onsite:
For the installers and field measurers who are actually onsite at the customer's home or business and are able to see the environment in which the countertops will be installed, it is easiest to sell the more logistical upgrades such as cabinet leveling, steel supports and expedited delivery.  They are also more likely to offer add-on recommendations onsite such as backlighting, custom stone dog bowls, backsplashes and wireless charging station embedded in the countertop.
Field measurers generate more than half of Hot Sauce sales, even though they are not typically considered sales people within the company. Hot Sauce gives these employees the opportunity to make money for the company and for themselves, all while providing the customer with a smooth selling process.
"When I think of Hot Sauce, I think of that extra spice on top; the thing you didn't think of before that makes your dream kitchen even better," says Mackenzie Stotz, Hot Sauce Marketing Coordinator. "Plus, the software just makes your whole countertop experience faster and easier." 
Click here to learn more about how you can start earning more with this simple selling software.